Some West Ham fans urged their club to let Andy Carroll's contract expire after report revealed the dilemma facing the Hammers over renewing it.
Claret & Hugh reported that should the Hammers want to trigger the two-year option in the forward's current £85,000-a-week deal, they would have to continuing paying him that amount or offer him a rise.
Upon learning that Manuel Pellegrini's side couldn't automatically extend Carroll's deal and lower his notable salary, a section of Hammers fans wanted him gone.
One fan tweeted that they wanted the 29-year-old gone and all of the money saved from his departure spent on giving Declan Rice a new deal,  while another dubbed Carroll a waste of space.
COMMENTARY
It's no surprise that some Hammers fans want to see the last of Carroll given that he is a big-earner that doesn't pull his weight. More often than not the experienced forward is rooted to the sidelines due to injury and that overshadows any talent he has. Carroll has scored 33 goals, while registering 17 assists, in 128 appearances for the club, which is respectable but awful at the same time. Given that the attacker has been with the Hammers, originally on loan, since 2012 he should have appeared more than a 128 times for the club. As one fan tweeted to suggest Carroll could be handed a new deal and then continue to lose his battle to injuries. If this was the case the Hammers would only have themselves to blame for handing a player a contract extension when they should have learnt their lesson about him by now.  While Carroll may return to the team shortly, as he will likely be fit again, it's not about whether he can deliver the goods, it's about him proving that he can stay available as that will determine whether he gets a new deal.
Forever West Ham has rounded up some of the best tweets below: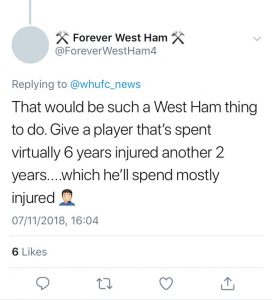 get rid and give all the money to @_DeclanRice #notrocketscience

— ⚒J@M£$ B@IL£¥⚒ (@jgcbailey) November 7, 2018
I'll admit on his day he is unstoppable, however, given the fact we get about 9 of those days per year…£85k a week could go a long way. Like giving Declan Rice a deal he deserves for starters

— IronsmanJP (@IronsManJP) November 7, 2018
What dilemma? Part ways.

— James Busby (@jamesabusby) November 7, 2018
#CarrollOut Get him out

— Charlie Fink (@finkyfink6) November 7, 2018
Get rid of the waste of space. He plays about 2 hours a season, waste of a squad bed

— ⚒️ Ryan Davis ⚒️ (@RDDavis1996) November 7, 2018
That's not a dilemma. Just get rid of him. What's the alternative? Give him another 2 years where he picks up £85k a week for sitting in the treatment room again. It's a no brainer. He has to go.

— ⚒ Forever West Ham ⚒ (@ForeverWestHam4) November 7, 2018
Give that money to Rice. Andy is good but injury plagued. We should not extend his contract.

— Juho Luomala (@Lomax_FI) November 7, 2018