Ryan Fredericks cheekily binned West Ham teammate Aaron Cresswell out of his Fifa 20 Ultimate Team as soon as he got him in a pack.
The Hammers full-back filmed a video of himself getting the Hammers left-back in a pack, alongside the likes of Newcastle United's Paul Dummett and Lyon's Youssouf Kone, and shared there was only one thing to do with his teammate.
"Only one thing to do with him….three or four coins, sweet," said Fredericks in a clip on his Instagram stories.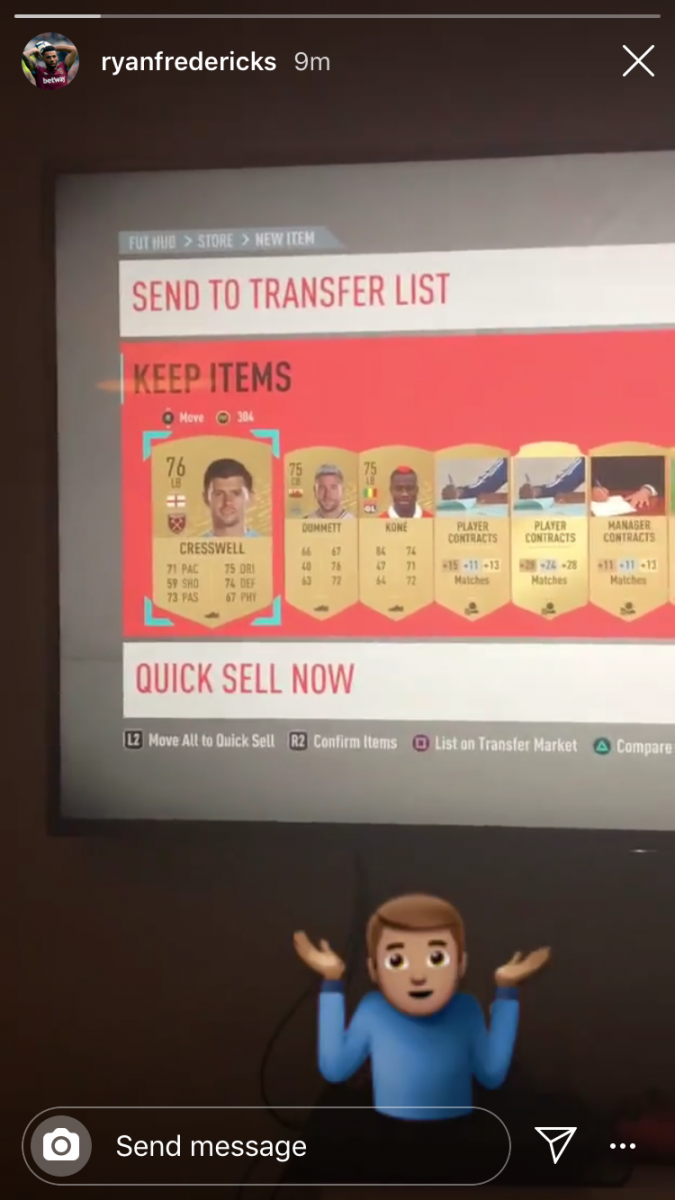 Fifa Ultimate Team is a game mode in the Fifa video game franchise where you can collect players in order to build the best team possible.
OPINION
The only thing more positive then the Hammers' current form is how close the squad seem to be behind the scenes. There seems to be quite a bit of banter being exchanged between the Hammers players as of late on social media, and Fredericks quickly selling his teammate on Fifa falls into that category. It's good to see such fun banter being exchange and a positive dressing room vibe being created as it will only help manager Manuel Pellegrini bring success to the club. After beating Manchester United 2-0 on Sunday, the Hammers currently sit fifth in the league with 11 points after the first six games. West Ham have scored eight goals in their opening matches and have conceded seven goals. When you consider five of the seven goals conceded all came in the opening day 5-0 defeat to Manchester City, then it shows how impressive the Hammers have been at the back so far.