West Ham sent a Twitter message to new Tottenham manager Jose Mourinho on Wednesday, but have since deleted the post. 
The Hammers will face Spurs on Saturday at the London Stadium, and shared a video of Mourinho's last visit to east London – a 3-1 defeat while he was Manchester United manager in September of last year.
The video was posted to the club's official Twitter account, and accompanied by the caption: "See you Saturday, Jose", followed by a winking emoji.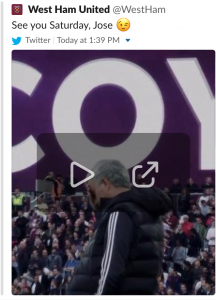 OPINION
This isn't a great look from West Ham, and it's probably best that it's been deleted. Nobody's against a bit of light-hearted banter, but there is a time and a place, and posting something like this ahead of a London derby when you haven't won any of your past six league games is ultimately asking for trouble. You're essentially giving your opponents a stick to beat you with if things go wrong. Essentially, the Hammers are writing cheques that they can't cash at the moment. Sort things out on the field, pick up three points, then gloat. Until then, keep your mouth closed. Moreover, Mourinho will have hardly had a chance to work with his new players going into this game, so even if the Irons do record a vital win, would that be a huge victory over the Spurs boss? Very probably not. A poorly judged tweet all-round.