West Ham United club insider ExWHUemployee has claimed that the club tried to appoint Leicester City manager Brendan Rodgers before opting for current boss Manuel Pellegrini.
At a time when the Hammers are flailing down in 16th place in the Premier League table, the Northern Irishman has the Foxes riding high in second place.
However, he was once a target for the top job at the London Stadium: "West Ham wanted to appoint Rodgers before Leicester did but he turned us down," Ex wrote on his personal Twitter account on Sunday.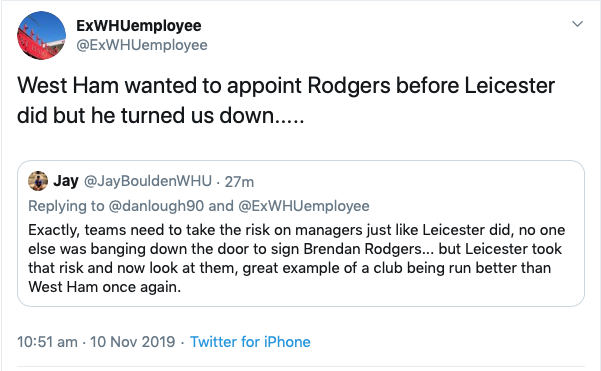 OPINION
This is the exact sort of thing you don't want to see as a West Ham fan when your team is languishing near the bottom of the Premier League table. It makes sense that the Hammers wanted to appoint Rodgers, because he did a good job at Liverpool and a great one at Celtic. So he is a proven top calibre manager and he has demonstrated that once again at the King Power Stadium. Obviously almost every West Ham supporter would love to have Rodgers over Pellegrini at the moment. The Leicester boss is positive, innovative and extremely resilient. However, what he also is, as his rejection of the Irons proves, is that he's extremely cerebral. He didn't want to leave a cushy job at Celtic for just your average Premier League team. He wanted the right post and he has very much got it with the Foxes. He's working with an immensely talented, well-rounded group of players who are undoubtedly better than what's on offer at the London Stadium.