Don Hutchison has claimed that he told West Ham United about Ajax playmaker Hakim Ziyech years ago.
The former Hammers' player admitted that he informed his old side about the Moroccan international but that they decided not to listen after he found the back of the net off Kepa against Chelsea in the Champions League on Tuesday evening.
Hutchison revealed on his personal Twitter account that he also told Crystal Palace about Ziyech, before taking a sly dig at the two club's analysts.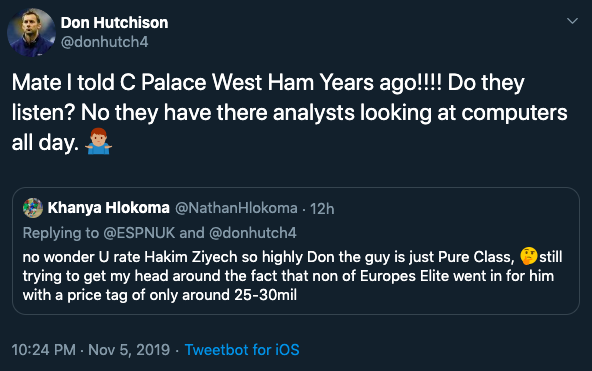 The 26-year-old was wanted by some of Europe's elite over the summer according to 90min, with the online outlet claiming he was most likely to join either Arsenal or Bayern Munich.
OPINION
West Ham have certainly missed out on a bargain having not taken up Hutchison on his advice. The former Liverpool and Hammers ace is right to feel aggrieved, with the Moroccan superstar certainly showing other teams what they could have had and what they are missing right now. You look at Manuel Pellegrini's side, and it is clear that they are missing a central playmaker that can slot in behind Sebastien Haller and make a real impact on the ball, and that is exactly what Ziyech is. The 26-year-old proved he can perform on the biggest stage in the Champions League in the past two seasons and was integral to his Ajax side reaching the semi-finals in the previous campaign. Ziyech has been involved in 12 goals in his 11 Eredivisie appearances already this season, with seven of those coming from assists, as he continues to prove that he would have been the perfect addition for West Ham, with Hutchison left saying, "I told you so."