talkSPORT presenter Andy Goldstein has hit back at Roy Keane for his fierce criticism of West Ham United midfielder Declan Rice.
The ITV pundit tore into the 20-year-old prior to England's 4-0 win over Kosovo on Sunday, but Goldstein feels the criticism has been too harsh.
"Yesterday against Kosovo I thought Declan Rice had a great game." he told talkSPORT. "I don't remember anyone getting through that midfield. Rice is always in a good position, his awareness of who's around him, his passing ability is fantastic…
"Let's not forget, Declan Rice is a baby – he's 20-years-old. I don't recall any West Ham fans saying he's gone off the boil. I remember West Ham fans phoning me up saying 'We've got the new Bobby Moore on our hands'. I read about Roy Keane having a pop at Declan Rice. Roy Keane should know better."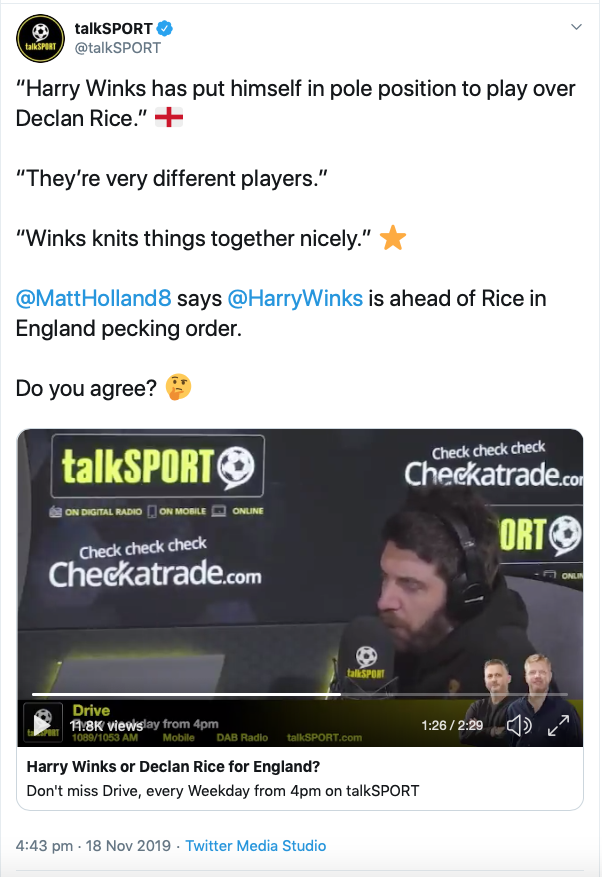 OPINION
There's no doubt that Keane was too harsh in his criticism of Rice. The youngster isn't the flashiest of players, and he's still got a lot to learn of course, but the way Keane told it you would've thought the West Ham man was lucky to be a professional footballer, let alone an England international. Rice's defence-first, neat and tidy approach in midfield isn't everyone's cup of tea, but it's not all that dissimilar to the style Keane authored during his pomp. No one's saying Rice is on that level – or on that of Moore – but the similarities are there. As Goldstein says, this is still a very young man. The Englishman is in his absolute infancy as a top flight player and as a Three Lions international. He is going to improve immensely in the years to come and will improve those myriad areas where Keane thinks he needs work. But, yes, Keane should know better. However, the chances of the Irishman changing now are unfortunately rather slim.