Former Wales international Danny Gabbidon has wondered whether West Ham United manager Manuel Pellegrini or Arsenal boss Unai Emery will be sacked first.
The two teams fell to disappointing defeats on Saturday, Arsenal 2-0 to Leicester City and the Hammers 3-0 to Burnley, and Gabbidon feels that time could be up for one of their managers soon.
The BBC pundit wrote on his personal Twitter account on Saturday: "Emery or Pellegrini, who gets the hefty pay off first??"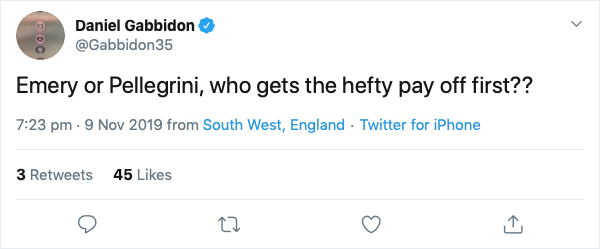 OPINION
This is a big question after Saturday, is it not? West Ham have now failed to win in their last seven games in all competitions, claiming just two points from their past six Premier League contests. That is absolutely woeful, and Pellegrini cannot remain in charge if that run continues. However, the co owners David Gold and David Sullivan aren't prone to sacking managers mid-season and having to stump up a big pay-off to get rid of them. The fact that Pellegrini is one of the highest paid managers in the top flight suggests that it would cost a hell of a lot to get rid of him. Is it likely that they would do that? Probably not, but if this poor run continues then the Chilean's position will simply become untenable. That's a fact, because while a Pellegrini pay-off would be expensive for the owners, it would be nothing compared to the club losing its Premier League status. That has to be a concern for the Hammers at the minute, because they are only two places above the relegation zone. Emery isn't doing great at Arsenal either, but Pellegrini is in real danger at the minute.