Daniel Gabbidon has labelled West Ham United's system as pointless after their 3-2 defeat to Newcastle United.
The former Hammer claimed that there is no point in adding an extra man in-behind Sebastien Haller unless they are capable of making runs beyond the Frenchman.
Gabbidon also pointed out that summer-signing Roberto needs an awful lot more protection from his defence, after not offering much of a presence when conceding three against the Magpies.
Writing on his personal Twitter account on Saturday evening, the retired defender also questioned why Manuel Pellegrini didn't start Ryan Fredericks over Pablo Zabaleta.
"Fredricks shoulda played but it was the system that was the problem," he wrote.
"Roberto needs protection and lots of it! Pointless playing with a No.10 unless he runs beyond because that's the areas Haller likes to drop into."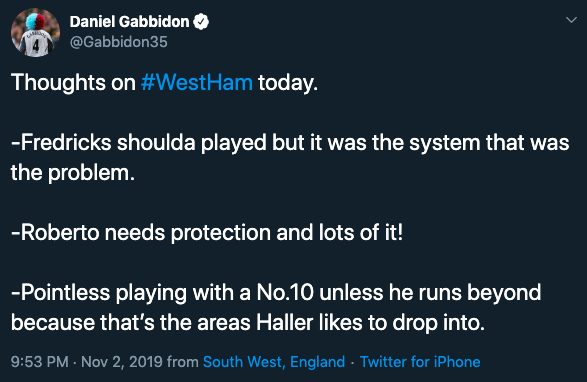 OPINION
There are so many things that need to be questioned at West Ham after that embarrassing display against Newcastle on Saturday. There are no excuses for being dismantled by a side, who before the game were the only team not to have scored more than one goal in a single game. Gabbidon is spot on with each of his points after the game, but they are there for everyone to see, and it doesn't take an expert to know that changes need to be made. Pellegrini had the chance to swap his side around after a winless October, and he went with an unchanged team – not good enough. It will not be long until Roberto finds himself back on the bench after being slammed by fans once again for his performance. Zabaleta was blown away by Allan Saint-Maximin, who beat the Argentine easily time and time again which put his side on the back foot immediately. Pellegrini will need to make changes, and it will be no surprise if there is more than just a couple for the Burnley game.