Former Chelsea defender Jason Cundy has said that he doesn't see how West Ham United manager Manuel Pellegrini can 'survive'.
The Chilean is under huge pressure amid a run of eight games without a win, and Cundy feels that serious questions now need to be asked of the Hammers boss.
"I don't see how he can survive," he said on talkSPORT. "Their good players – the two widemen and the striker – how're they not getting them more involved in the game?"
"You saw what Spurs did to them, Spurs went back to basics. Who are their good players and make sure you play your good players in their best positions and give the ball to them. West Ham were just pathetic. Spurs were excellent, West Ham were pathetic."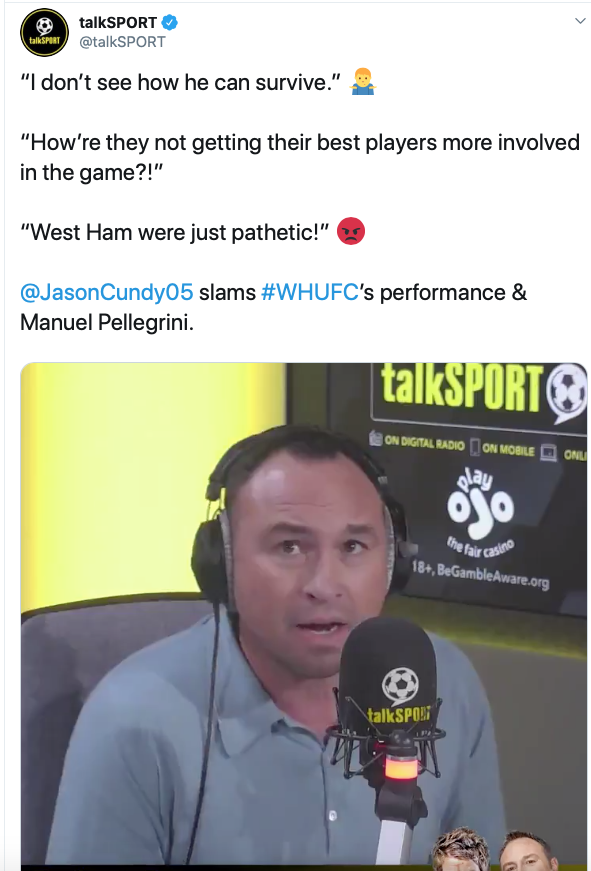 OPINION
Cundy asks a key question, here, which is how Pellegrini hasn't figured out a way to get Andriy Yarmolenko, Felipe Anderson and Sebastien Haller more involved? Both the Ukrainian and the Frenchman were absolutely on fire to start the season, but as the team's fortunes have deteriorated so have theirs. Haller has only scored once since August, which is completely unacceptable for a man who cost a club record fee of £40million. However, it's hard to blame him too much because he is so isolated up front on his own. Yet Pellegrini refuses to change his system, which demonstrates that he is a big reason behind the aforementioned trio's struggles. Anderson certainly doesn't look like the same player as he did this time last year. Pellegrini has proved to be entirely intransigent, despite his stubbornness clearly being to the detriment of his team. With that said, Cundy is right, it's difficult to see how he stays on at the London Stadium.