West Ham midfielder Jack Wilshere sent Ryan Fredericks a tongue-in-cheek message after seeing his latest Instagram post.
The Hammers right-back took to his personal Instagram account in order to reveal he was looking forward to returning to action in the Premier League following the international break.
"Happy Monday! Looking forward to getting back to PL focus," wrote Fredericks.
This robotic post by the Hammers defender saw Wilshere cheekily mock the full-back for saying "looking forward to…" as he replied to Frederick's post with a message of his own.
"Looking forward to seeing you train," wrote the midfielder, via his verified Instagram account.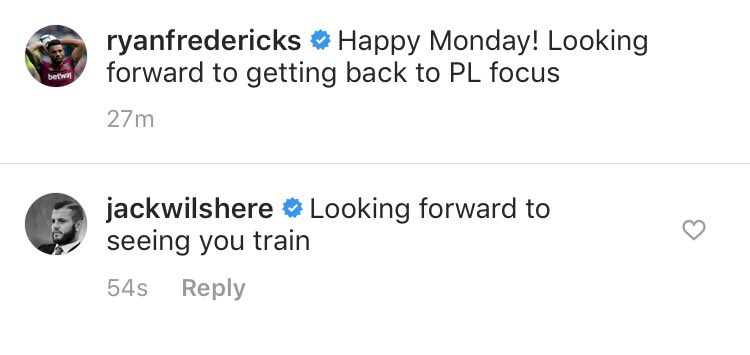 Declan Rice posted a similar message to Fredericks using the phrase "looking forward to" and since then, he has opted to edit his post.

OPINION
It seems there's some healthy banter going on between some members of West Ham's squad and that's always good to see. While Fredericks did get clearly mocked for using the phrase "looking forward to" as it came across robotic and like someone else had written his post for him, he likely took it in good faith. In fact, it wouldn't be a surprise if the 27-year-old jumps on the next opportunity to have a cheeky joke at Rice's or Wilshere's expense.  However aside from Fredericks clearly enjoying life off the pitch at West Ham, he is currently excelling on the pitch as well. In his 2018/19 campaign, Fredericks seemed unable to keep Pablo Zabaleta out of the team and reguarly found himself on the bench, but that hasn't been the case this season. The right-back has played every minute of the Hammers' Premier League campaign so far and even managed to register an assist in the disappointing 2-1 defeat to Crystal Palace before the international break. The 27-year-old has been able to nail down being Manuel Pellegrini's first-choice right-back due to consistently delivering impressive performances as this season he has averaged a very good 2.7 tackles per game and even averaged 1.1 key passes per game. (Source: WhoScored)