West Ham goalkeeper Roberto Jimenez vowed that the best was yet to come after playing 333 professional games.
The Hammers shot-stopper revealed in a heartfelt message on Instagram that he debuted with the number 33 on his back and that on that day, he knew that the number meant something and that when he reached 333 games in his career, he'd have something to celebrate.
Roberto revealed that he played the 333rd game of his career when he featured for the Hammers in their 1-1 draw with Sheffield United and added that he was proud to have reached that personal career milestone as a Hammer.
"Mi first division debut was with the number 33 on the t-shirt," wrote Roberto on his Instagram account.
"After the game i said that day and that number just would have some meaning and i would have something to celebrate if i got to play 333 professional games.
"Well.. last Saturday that happened. I'm very proud of all the teams i've play for, and i'm very happy to arrive to this special number for me as a hammer .
"The best news is that after almost 14 years i'm still feeling that the best is just to come!! "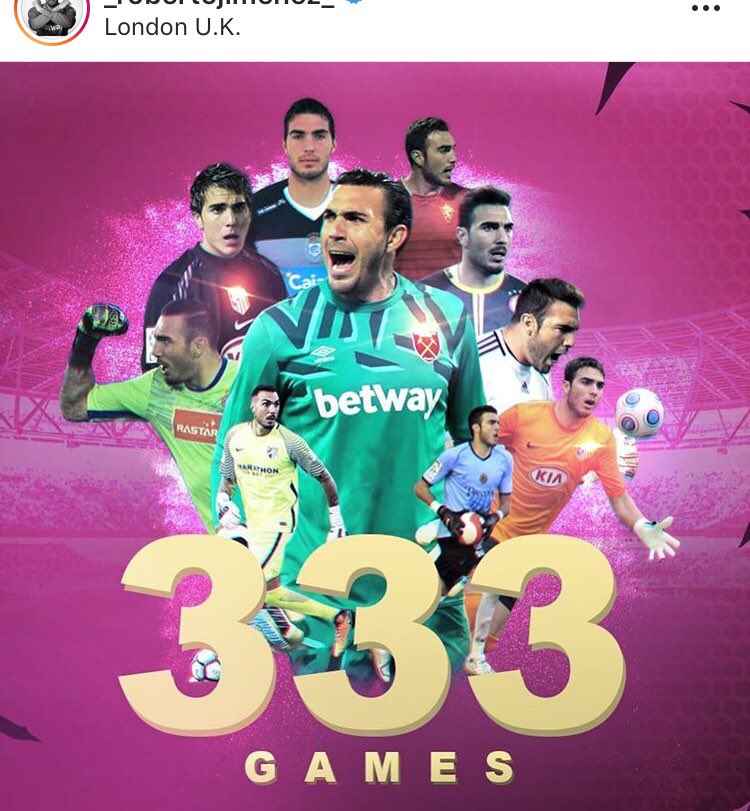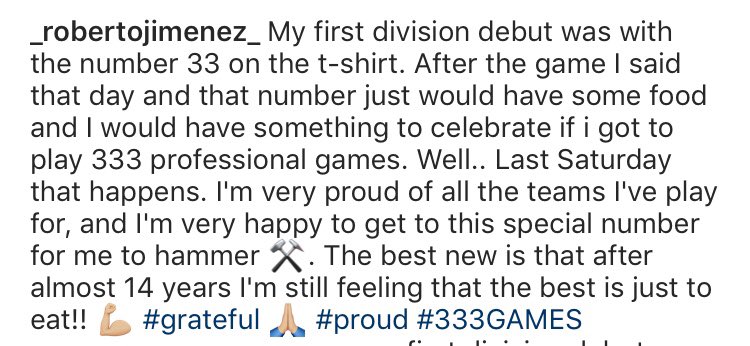 OPINION
It's an odd milestone to celebrate but you can tell reaching 333 games for Roberto is a big deal and it must be extremely nice to achieve a goal that he set almost 14-years-ago. However, what is even nicer from a Hammers' perspective is that Roberto is still hungry to succeed and determined to achieve even more in the game as that's only going to see him perform at his best. The 33-year-old shot-stopper is a regular member of Manuel Pellegrini's first-team as it stands following Lukasz Fabianski's injury and he needs to be at the top of his game to help the Hammers climb the table in the coming weeks. Roberto has so far failed to keep a clean sheet in any of his four league games and has conceded six goals in the process (Source: Premier League), so there's room for improvement. The 33-year-old notably should have done better to stop Bernard scoring in the loss to Everton recently, shown by some fans ripping him apart on social media due to leaving his near post exposed, but he has shown signs that he could be a capable keeper for the club. In fact, Roberto has notably already managed to impress enough to have former England No.1 goalkeeper Paul Robinson singing his praises, and that is a testament to his talents.