West Ham United midfielder Robert Snodgrass has confirmed his retirement from international football in an emotional post on his Instagram account.
The 32-year-old has been a fine servant of his country over the years, but after the latest set of international fixtures he has decided to call it a day.
"Thank you for giving me the opportunity to live my childhood dream," he wrote on his personal Instagram account. "t's been such a special feeling pulling on that Scotland jersey since I was 16 years old.
"There's been many highs throughout my international career which I'll always remember with fondness, including my debut against Northern Ireland, winning 2 international player of the year awards, and my hat-trick in Malta. It's now the right time for me to step aside though and retire from @scotlandnationalteam and let the boys and younger players take my place and hopefully push the squad forward.
"I want to especially thank the Tartan Army for their special support you've showed me over the years. I will never forget this.
A massive thank you also goes to everyone at the SFA for looking after me since I was a young boy, including Frank Reilly, Doc McLean, Jonesy, managers, coaches, staff, the physios, massage therapists, kit men and the media staff I've worked with over the years.
"I will now watch as a fan and I hope to see us play at a major tournament again soon – fingers crossed the boys do it come March!
Snods."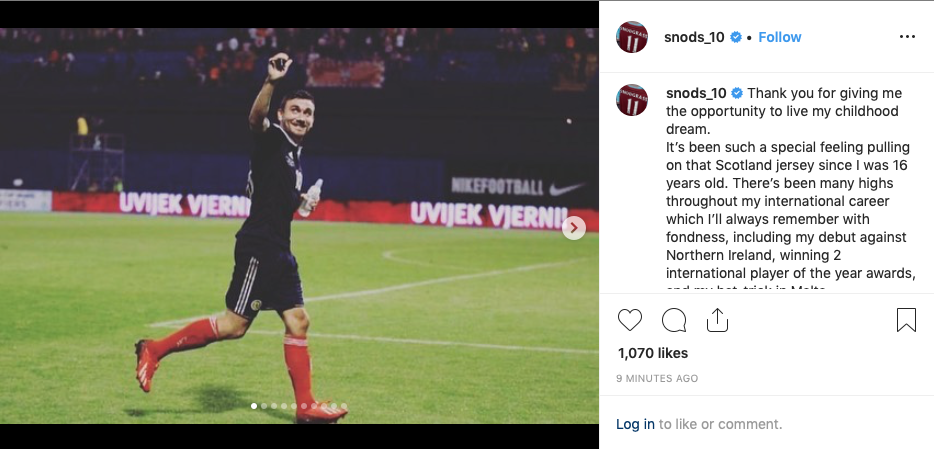 OPINION
You can totally see why Snodgrass has now decided to end his tenure with his country. He is getting on a bit in age and perhaps wants to extend the final phase of his club career, something made more difficult by continued international commitments. He's amassed 28 caps and seven goals for his country over the years and, while it's not always been easy or successful, no one can say he hasn't tried his hardest every time he's pulled that Scotland shirt on. However, Steve Clarke's side need a hard reboot if they are to get back to a good place. Recent results haven't been good enough, no matter who the manager, so it's time that the older generation of players step aside and allow some promising young talent to come through and take on the baton of trying to get Scotland back to a major tournament. Snodgrass wasn't able to do that, but he can hold his head high regardless.