Borussia Dortmund winger Jadon Sancho has sent West Ham United midfielder Declan Rice a one-word message on Instagram ahead of England's European Championship qualifier against the Czech Republic on Friday.
The Hammers' midfield enforcer posted a photo of him taking a shot on goal to his personal Instagram account, making reference to teammates such as Harry Kane and Raheem Sterling watching in the caption.
Sancho replied in disbelief with a one-word message simply saying "never" as he questioned Rice's abilities to find the top corner like he said he did in training.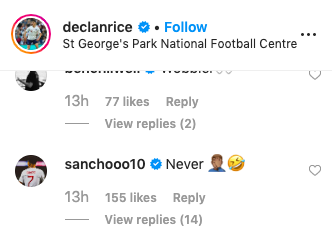 Rice has been ever-present in the England squad in the past year or so after impressing consistently for West Ham under Manuel Pellegrini, with the 20-year-old set to earn his sixth cap for the Three Lions when they meet the Czechs on Friday.
OPINION
The continued success of the England team appears to have been built on the back of great comradery in the dressing room between the players. Despite coming in after the World Cup run and only making five appearances under the management of Gareth Southgate, Rice appears to have settled in perfectly and has the backing of all of his teammates going forward. The 20-year-old has the ability to score goals, as he wants to highlight on his Instagram post, but as Sancho points out, he is more known for his defensive capabilities. Rice is in the England squad to sit in front of the defence and allow players such as Sancho to catch the eye going forward, something the Dortmund man will be hoping will happen once again on Friday against the Czech. Rice has averaged 3.8 tackles and 2.3 interceptions per game in the Premier League according to WhoScored, and the Englishman should prioritise his defensive actions rather than his attacking skills on matchday.