West Ham United co chairman David Gold has confirmed that Hammers goalkeeper Lukasz Fabianski has had surgery on his hip injury.
The Poland international went down with the problem against Bournemouth last month, and it has been up in the air as to whether he'd have surgery ever since.
Now, though, Gold has provided an important newsflash: "Just to update you all, the surgery on Lukasz Fabianski's hip went as planned this morning in London," he wrote on his personal Twitter account.
"He will hopefully be discharged later today. Speedy recovery Lukasz. dg."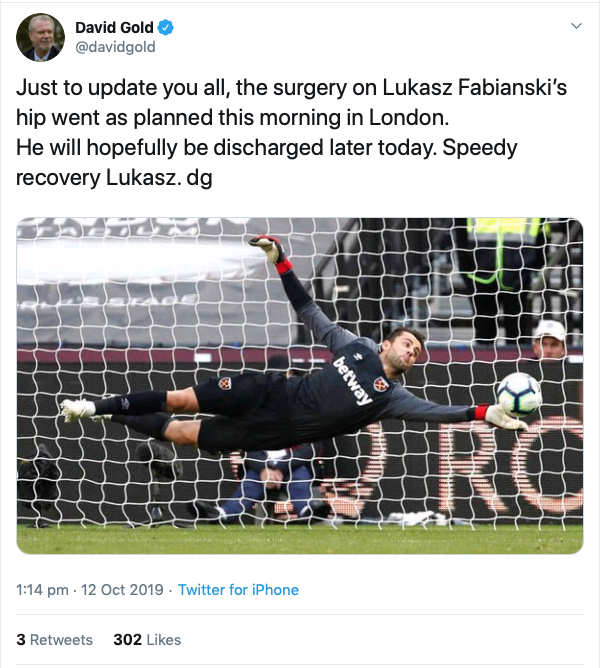 OPINION
This is terrific news for the West Ham fans. Obviously it's key that Fabianski makes a full and safe recovery, before anything else. It seems that there were discussions over whether he would have surgery or not, because it's been quite some time since the original injury, but the club have now made the decision that he had to have it. That's the best choice, then, because they have all the information and they've opted for this course of action. We know that manager Manuel Pellegrini has complete trust in Roberto, who will continue to serve as Fabianski's back up while he recovers from this setback. If Fabianski does get discharged today then that means that the operation went well and he can immediately begin his recovery, which is what every West Ham fan wants. He's an absolutely crucial player for Pellegrini's side, but the important thing is he gets back to full fitness and remains at 100% moving forward.