Reliable club insider ExWHUemployee has urged the West Ham United supporters not to believe everything they read about Hammers youngster Conor Coventry.
The 19-year-old has become a figure of controversy recently, with respected Irons news source Claret & Hugh reporting earlier this week that the club have postponed contract talks with the teenager until the end of the season.
The player and his representatives are said to be unhappy with the wages being offered by the east London outfit, with the midfielder said to be looking for £5,000-per-week despite having not yet made his Premier League debut.
ExWHUemployee, though, has urged supporters to be wary of these sorts of reports: "Coventry had another solid performance apparently, don't believe all that's been written about him, he just wants contract parity with similar players," he wrote on his personal Twitter account.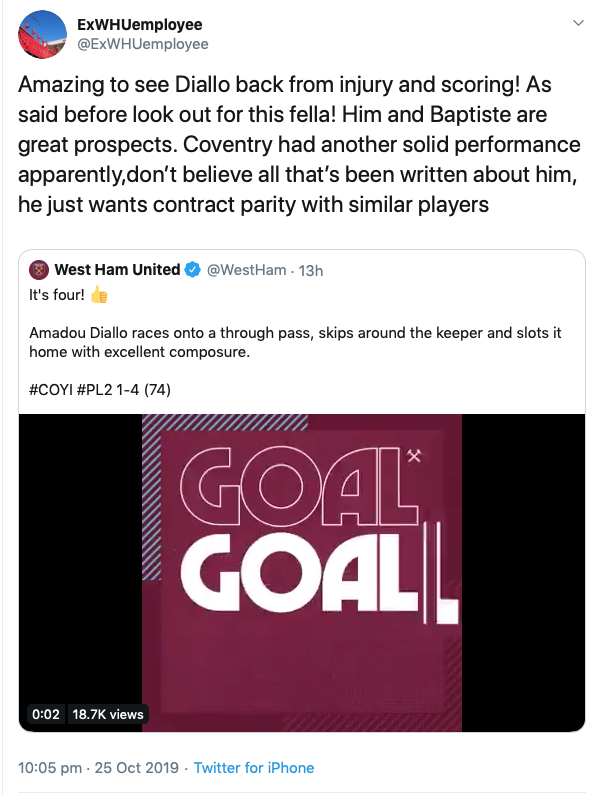 OPINION
It's been proven over time that ExWHUemployee is a reliable source of information when it comes to the east London side. However, what he says here doesn't make sense as it relates to Claret & Hugh's report. Ultimately, if Coventry and his representatives are asking for £5,000-per-week then that makes what ExWHUemployee says complete nonsense, because in that case they're not after contract parity. There aren't many players who have yet to make their league debut but are on £5,000-per-week, and there certainly aren't any at West Ham on that sort of money. So if that really is the case then it's not contract parity Coventry is looking for at all. Claret & Hugh's report states the £2,5000-per-week the club have offered the teenager is the maximum they offer to young players. So if he wants double that then it's not parity he's after, he's just being greedy. Ultimately, Claret & Hugh's report could be wrong, of course. It's all a bit murky at the moment, though, so who knows what's going on?