Former West Ham United goalkeeper Adrian has sent the Hammers a six-word Twitter message after they posted a throwback video of the penalty shootout against Everton.
The Spaniard scored the winning penalty against Saturday's opponents in the FA Cup third round in 2015 at Upton Park after the game eventually finished 2-2.
The 32-year-old moved to the Toffees' rivals, Liverpool in the summer after being released by the Hammers, something which Manuel Pellegrini has admitted he doesn't regret sanctioning his exit [Evening Standard].
Adrian responded to the video on West Ham's official Twitter account on Thursday evening, simply saying, "What a lovely night it was."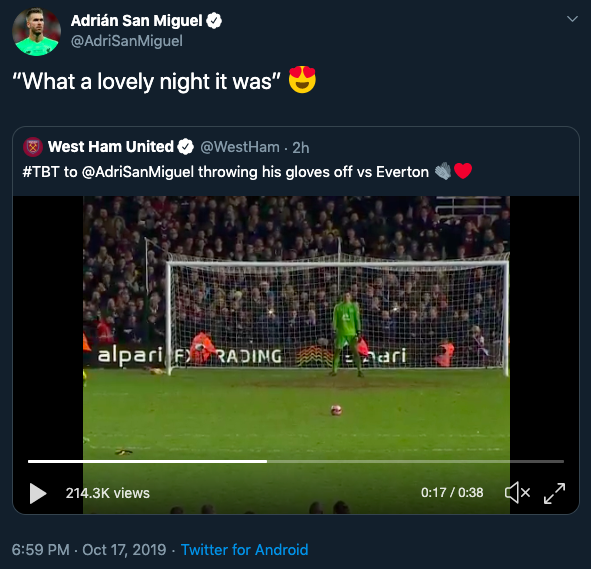 OPINION
What a lovely night it was indeed for the Hammers. Who could forget that famous FA Cup night? The third round isn't usually one of those that is fondly remembered by many Premier League sides and is more excitable for the lower league teams who could get the opportunity to test themselves against some of the best in the country. The Hammers will most likely have been disappointed to draw a fellow top-flight team, and when the game finished 2-2 after extra time, it meant that the dreaded penalty shoot-out would decide their fate. With the scores tied at 8-8 it fell to the keepers to show their skill at the opposite end of the pitch, and Adrian kept his nerve to send his side in the fourth round, and put himself amongst some of the greatest memories to ever take place at Upton Park before they moved to the London Stadium. Adrian left the club behind with many fond memories, and this will top the chart – there aren't many keepers who have ever stepped up and won a penalty shootout for their side, is there?