Former West Ham United academy manager Terry Westley has leaped to the defence of Hammers midfielder Declan Rice after criticism of his performance for England on Tuesday.
The 20-year-old surprisingly came under heavy fire from supporters for his display in the Three Lions' 5-3 victory over Kosovo at St Mary's Stadium, but Westley has hit back by comparing him to Tottenham Hotspur star Harry Kane.
"Some are moaning about Declan…," he told Claret & Hugh, as per that outlet's personal Twitter account.
"Didn't hear too many going on about Kane's missed pen!!!"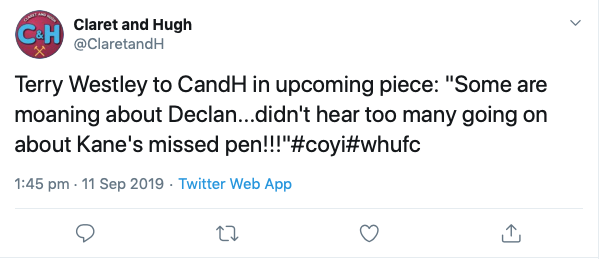 OPINION
It certainly feels like the criticism of Rice for his performance on Tuesday has gone way overboard. There are section of the football fandom that don't seem to understand that certain players have certain jobs, and just because they're not curling in free kicks or launching 50-yard cross-field passes doesn't mean that they're doing nothing on the pitch. Rice has a very specific role with England. He is the midfield destroyer. It's his job to win the ball back and then give possession to the more talented attacking players in Gareth Southgate's side. If he can't find one of them immediately, then of course he's going to recycle possession and find one of the defenders behind him or Jordan Henderson to the side of him. He's not there to be Raheem Sterling, Jason Sancho or even a Dele Alli type, so it's bizarre that he gets criticised so much for doing his job. Yes, it wasn't his finest day at the office against Kosovo, but no defensive midfielder is going to shine in a crazy 5-3 match. However, to bring Kane's penalty into it is a bit reductive from Westley.