West Ham United had scouts in attendance to watch the Primeira Liga game between Porto and Portimonense on Sunday, according to Scouts in Attendance.
The outlet claims that the Hammers were watching the clash between the European heavyweights and the Portuguese minnows, as were plenty of other teams.
Their Premier League rivals Manchester United were also there, as were Spanish side Sevilla, French outfit OGC Nice and German team Wolfsburg.
It was an entertaining affair that ended 3-2 to Sérgio Conceição's side.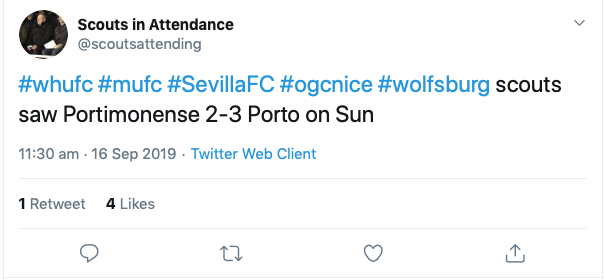 OPINION
Well, this is interesting, isn't it? We have seen West Ham buy a couple players from Portugal in the past couple of years and they have been linked with a few Porto players, as well, most notably striker Moussa Marega (as per A Bola). However, there is no indication here of just who exactly they were watching on Sunday. They got a good game, that's for sure, and it's probably a good thing that some other big teams were in attendance. We've seen over the years that Sevilla are excellent in terms of recruitment, while Nice have just been taken over and have big money. There's also Man United in the mix, as well, although that may not be a good thing given their buys over the past few years. If Sevilla are at a game then there are probably some good players playing, so West Ham could be on to a winner here. However, we don't know the details obviously. But this may be a story we look back on in a few month's time when the Hammers buy someone from one of these two teams.