West Ham United women's managing director Jack Sullivan has picked up on something he loved when Hammers midfielder Declan Rice arrived for England training on Monday.
The 20-year-old received another call-up to Gareth Southgate's squad, and turned up at St George's Park along with his good friend Mason Mount of Chelsea.
However, it was something else that Sullivan – son of West Ham owner David Sullivan – enjoyed seeing.
"West Ham bag," he wrote on his personal Twitter account, after a video posted on England's Twitter account showed the youngster arriving with a bag with the Hammers' logo on it.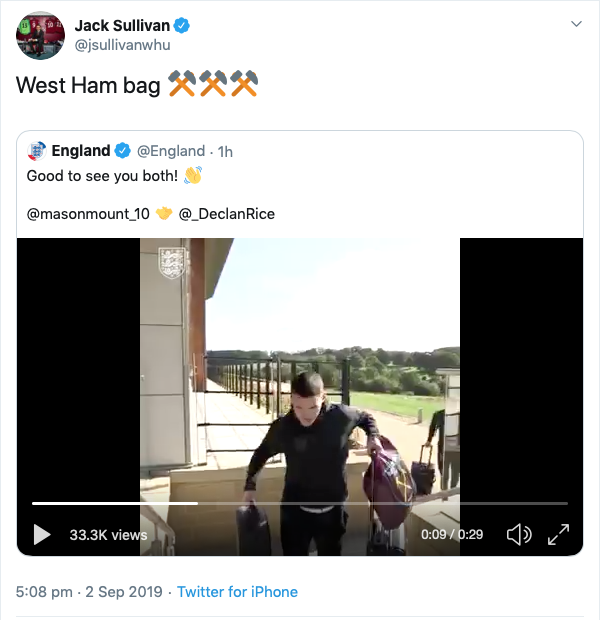 OPINION
This is another example of Rice being West Ham through and through – 'one of our own' as they like to say on the terraces. And this is another thing that will lead to the Irons fans adoring him even more – if that's possible. You don't often see England players turning up with bags that have huge team badges on, it's more likely you'd see Jesse Lingard rocking up with a Louis Vuitton wash bag. That probably says it all about the difference between those two players. Sullivan obviously appreciates seeing another sign of Rice's loyalty to the east London side. Ultimately, this isn't really a big deal, but it's a heart-warming sight for those of a West Ham disposition. It's a boost to the Hammers to see Rice get called up once again, while for the player himself he will be delighted to see his good friend Mount get called up to the squad as well.