Former England international Gary Lineker has mentioned West Ham United in a cheeky Twitter dig at former Prime Minister David Cameron.
The Match of the Day host has long been someone who comments on things outside of just football, mostly politics, and he continued that trend on Saturday.
"Whether it was Villa or West Ham he should have stuck to football," he wrote on his personal Twitter account in reply to a Tweet from Cameron.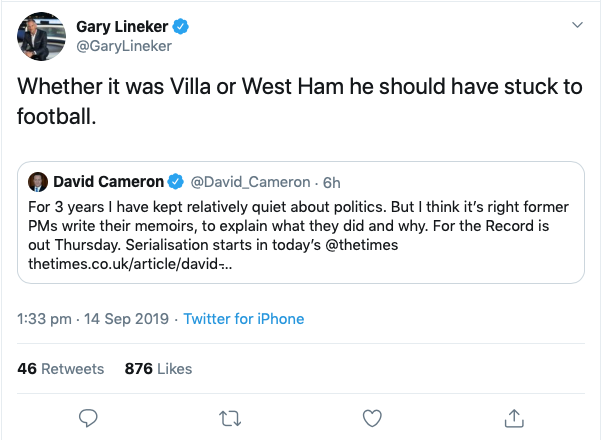 OPINION
Lineker is obviously referring to Cameron's infamous confusion over which team he actually supports – or pretends he supports. Is he an Aston Villa man or a West Ham one? Either way, he's clearly a big fan of a claret and blue shirt. This is fairly typical of Lineker's hit-and-miss attempts at social media humour, although this is fairly strong by his standards. For years Lineker has been told that he should 'stick to football' whenever he comments on anything outside of the sport he once played professionally and now covers. Not only is that a ridiculous thing to say to anyone, but it's a theory that would deprive of us characters like Juan Mata and Raheem Sterling who are making conscious efforts to improve things outside of their own personal games. Lineker has taken that line and applied it Cameron, including his Villa-West Ham faux pas in the process. Hey, it wasn't bad by his normal standards.