Former West Ham United midfielder Don Hutchison has claimed that his old side could finish in the top four with a 'redic season'
Presumably using the shorthand for 'ridiculous', the BBC pundit clearly has high hopes for the Hammers, saying that they could capitalise on the uncertainty surrounding several of the Premier League's traditional top teams.
"I said West Ham and L,ster [Leicester] with a Redic season could finish in 4,5,6th," he wrote on his personal Twitter account on Tuesday.
"Chelsea Arsenal and Man U all in transition. So there is a chance of top four but it's still slim."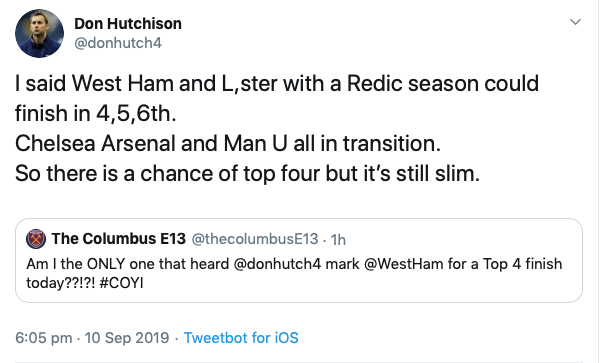 OPINION
Hutchison appears to have summed up the situation pretty well, here. Leicester certainly seem like they are closer to breaking into the top four than West Ham are, but both sides have looked good in the early stages of the season and must be considered dark horses for the Champions League spots. Hutchison is right that both teams would have to have really outstanding campaigns to achieve this lofty aim, but they both have excellent starting line ups and so could capitalise on the European football being played by the other three teams Hutchison has named. He's right that there is uncertainty at Chelsea, Arsenal and United. The former are seemingly going all-in on youth under Frank Lampard and while burdened by a transfer embargo. Meanwhile, Arsenal continue to flatter to deceive and haven't sorted their defence out, while United are a raging mess right now despite the arrivals of Aaron Wan-Bissaka, Harry Maguire and the electric Dan James. So there is a chance that the Irons could break the glass ceiling, but a slim one, as Hutchison says.