Former West Ham United manager Harry Redknapp has raved over his discovery of ex Hammer Joe Cole, saying he'd never seen anyone who could play football like him.
The former England international was one of a phenomenal group of young talents who made their breakthrough at Upton Park under Redknapp, but the 'I'm a Celebrity' king clearly has special feelings for Cole.
"Joe Cole was a talented player, Joe Cole was a genius," he told talkSPORT. "I signed Joe when he was 11… I've never seen a kid who could play football like Joe Cole, it was ridiculous.
"He was so good, just a genius at 11 years old. We got him in at 11 years of age and managed to hold on to him. Great lad as well, Joe."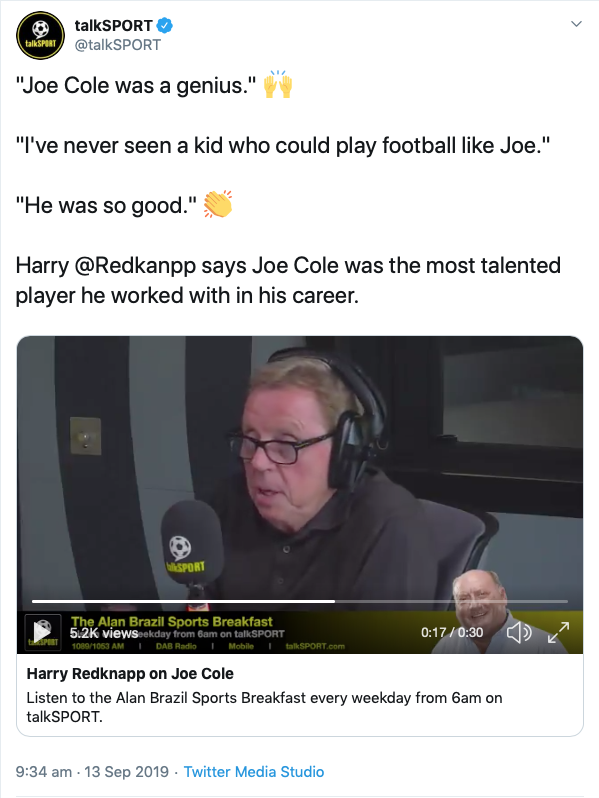 OPINION
When you consider all the players who Redknapp has come across over the course of his illustrious career – at West Ham and at other clubs – it tells you all you need to know about just how good Cole was as a young player coming through at Upton Park. You have the likes of Rio Ferdinand, Jermaine Defoe, Michael Carrick etc. who all broke through at West Ham under Redknapp, so for him to rave over Cole in this way, to single him out like this, suggests that he viewed the former Chelsea man as the best of that group of players. To be fair, though, this was always the assessment of Cole when he was a young player. He was viewed as an unbelievably talented player from a technical standpoint. His touch, his skill on the ball and his enviable vision made him one of the most hyped prospects in the country as a young man. When you consider that, and what Redknapp has said here, you could make the argument that Cole never quite fulfilled his massive potential as a youngster.