Reliable West Ham United insider ExWHUemployee claims that he expects Premier League heavyweights Manchester United and Chelsea to bid for Hammers star Declan Rice in the 'near future'.
The 20-year-old has been linked with a whole host of top teams ever since he made his first real breakthrough under Manuel Pellegrini last season.
ExWHUemployee has the latest: "Man U have been interested for ages, even before Ole," they revealed on their official Twitter account on Tuesday. "It's inevitable that the big clubs will be interested.
"It is up to us to decide whether we want to sell him or not. I expect both Man U and Chelsea to bid in the near future. The lat[t]er worries me more."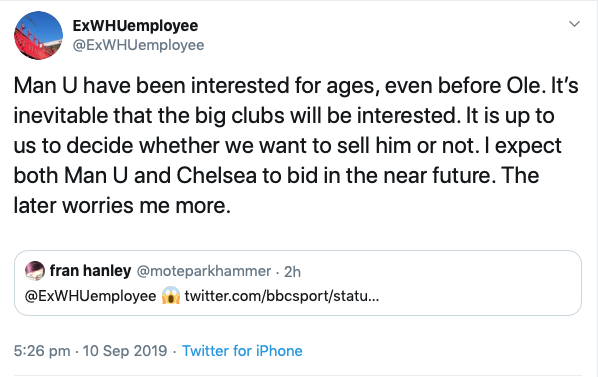 OPINION
This is interesting from ExWHUemployee. The club insider is a reliable source, with a proven track record of getting things right. If they say that both these teams are interested in Rice then they probably are. However, the fact that they have said that the two Premier League giants will likely bid for the West Ham midfielder in the 'near future' is worrying in the extreme for fans of the east London outfit. They will obviously want to keep hold of Rice for as long as possible, but if a big bid comes in for him from either of these two teams then it's going to be very difficult for the club to say no. It's revealing that ExWHUemployee consider Chelsea to be the graver threat to sign Rice. We all know the story by now of how the 20-year-old was in Chelsea's youth system as a youngster before being released and joining the Hammers. So that is probably why they are considered more likely to sign him, here.