West Ham United co chairman David Gold has named Hammers captain Mark Noble as his Man of the Match in Sunday's victory over Manchester United.
Manuel Pellegrini's side cruised to a fantastic 2-0 victory over the struggling Red Devils, with Andriy Yarmolenko and Aaron Cresswell on the scoresheet.
But it was Mr. West Ham who caught Gold's eye: "Good morning all, just come down to earth," he wrote on his personal Twitter account on Monday.
"David Kidd sports writer of the Sun wrote "Man United found themselves overwhelmed by a cauldron of noise" Home support at its best. For me. Man of Match, Captain Mark Noble. dg."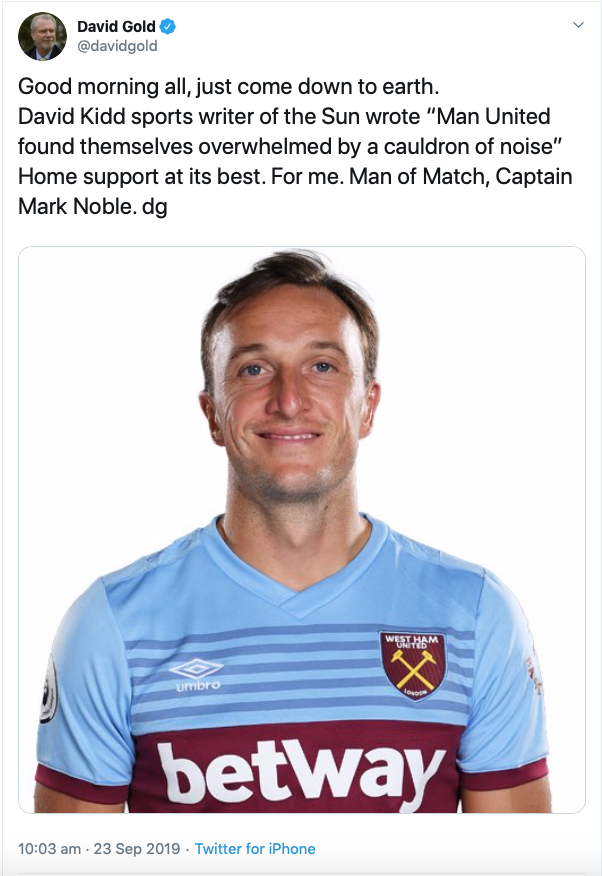 OPINION
Gold is right about the atmosphere on Sunday. It looked like it was absolutely terrific. Games between West Ham and Man United are always feisty affairs, and the Hammers faithful ensured that Sunday's game at the London Stadium was played in a fervent cauldron of noise, as Kidd wrote. As for Noble, he was tremendous. The captain has gone underrated for so long, appreciated in east London but not so much elsewhere. However, this season it appears that those outside the West Ham bubble are finally seeing how good Noble actually is. He's not just a starter because he's the skipper and he's a one club man, he's in Pellegrini's team on merit. The Englishman showed what he could do against the Red Devils, bullying the visiting midfielders and showing them how to operate in central midfield. Declan Rice and Noble played Ole Gunnar Solskjaer's team off the park, and the captain deserves recognition from the co chairman.