Laura Woods raved about West Ham midfielder Jack Wilshere after being asked if the Hammers reminded her of "Brazil" during moments of the Hammers' 2-0 win over Newport County on Tuesday.
A fan tweeted the Sky Sports presenter to assure her that she could admit that watching the Hammers in their latest outing must of been like watching Brazil play, before cheekily adding they didn't mean talkSPORT host Alan Brazil.
"It's OK  @laura_woodsy you can admit it – during some points in that game it must of been like watching Brazil!? (And I am not talking@alanbrazil @SportsBreakfast)," wrote Killian Quinn.
Instead of laughing about the cheeky comparison to the five-time World Cup-winning nation, Woods used the tweet to take the opportunity to praise Wilshere as she stated that anytime Wilshere touched the ball it was like watching Brazil.
"Any time Wilshere touched the ball," wrote Woods, via her verified Twitter.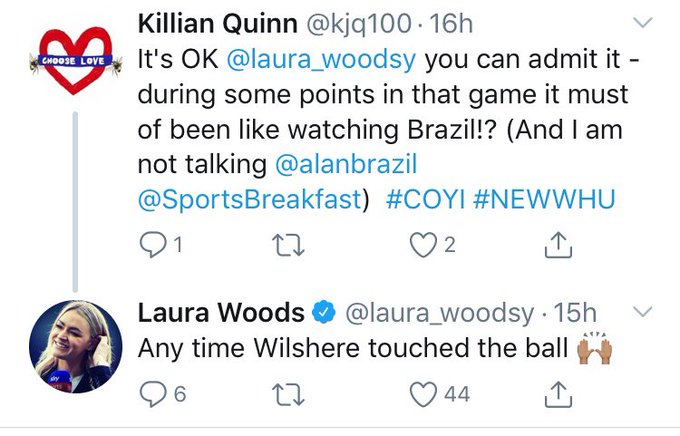 OPINION
While Woods' praise is clearly tongue-in-cheek, it's easy to see that she was impressed by Wilshere's latest display. It's also easy to understand why Woods would have been particularly in awe of the 27-year-old's performance, as he effectively ran the show for Manuel Pellegrini's side before being subbed. Wilshere was named Man of the Match against Newport as he not only did he rack up his first goal for the club but he completed 57 of his 67 passes and ensured he got on the ball a lot, as shown by the fact he touched it 86 times (Source: Sky Sports Statto). The 27-year-old has had a slow start to the season so far, for example, he struggled so badly to have an impact during the 1-1 draw with Brighton that he managed only 15 touches before Pellegrini replaced him (Source: WhoScored). So perhaps a confidence-boost performance against League Two's Newport will end up kick-starting Wilshere's season, as clearly the 27-year-old is a talented player, it's just about him getting up to a level of fitness where he can showcase those talents.