Marlon Harewood sent Carlton Cole a message on Instagram after the 35-year-old gushed about West Ham on the anniversary of his Premier League debut for the club.
Cole took to Instagram on Monday to share that it was 13 years since he made his Premier League debut and he proceeded to share how much the club meant to him, especially as the Hammers had not had given him a chance as a player but as a coach as well.
"13 years ago today I made my @premierleaguedebut for @westham and capped it off with my first goal," said the Hammers youth coach.
"13 years on I'm still heavily involved with the hammers.
"To say West Ham is a big part of my life would be an understatement.
"Thanks for giving me the opportunity to establish myself as a player and now further on down the line West Ham are giving me the opportunity to be a coach.
"Absolutely perfect, thank you."
Cole reminiscing about his time at the Hammers then saw Harewood send him a four-word message in order for the ex-Hammers attacker to dub the 35-year-old his partner in crime.
"My partner in crime," wrote Harewood via his verified Instagram account.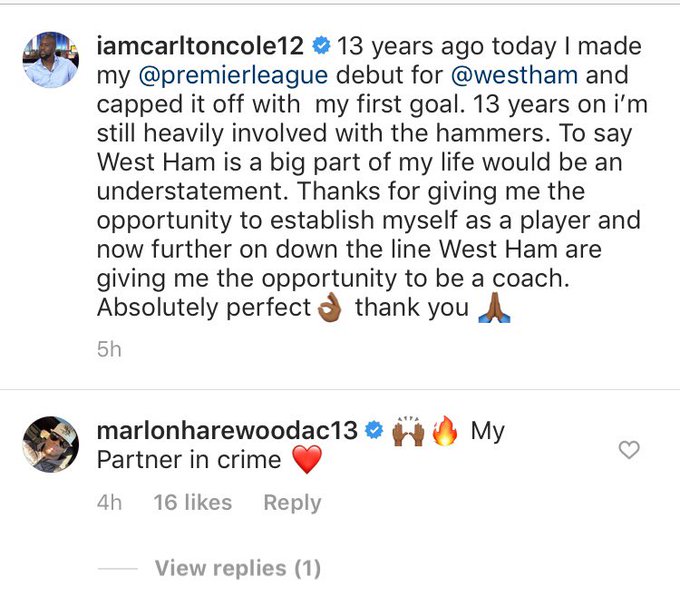 OPINION
It's hard not to feel nostalgic when talking about either Cole or Harewood as both provided Hammers fans with some wonderful moments. After all, Harewood scored 53 goals, while assisting 14, in 161 appearances for the London club and was the Hammers top scorer in their promotion-winning 2004-05 campaign, while Cole played a staggering 293 times, scoring 67 times in the process. However, it seems, in Cole's case on this occasion, that the 35-year-old loves the Hammers as much as the fans adored him during his playing days. Cole clearly made the most of his opportunity to thank West Ham on the anniversary of his Premier League debut, and you can't help but appreciate how grateful he is for the chances the club have given him. With Cole currently heavily involved with the Hammers' youth academy, you hope he can inspire the future West Ham stars of tomorrow, and really ensure they understand how lucky they are to be at the club also.