OPINION
Stan Collymore shared he was concerned about West Ham's defensive options and singled out Aaron Cresswell in the process.
The outspoken pundit previously revealed on his personal Twitter account that he was predicting the Hammers to finish 11th in the Premier League and has now revealed what worries he had about the team that caused him to believe, they'll miss out on a top-10 finish.
Collymore claimed it was the Hammers' defenders that concerned him, especially after watching a couple of games in pre-season, and shared he wasn't convinced the Manuel Pellegrini had the right kind of players.
The pundit quickly added that a few seasons ago Cresswell was sensational and seen as the next big thing, which implied that he believes the left-back hasn't lived up to his previous hype.
"Where are my worries? Diop, Fredericks, Balbuena, Cresswell, Winston Reid and Ogbonna, I'm not convinced those are the kind of players…" said Collymore on his podcast The Last Word (37minutes on podfollow.com).
"Aaron Cresswell was sensational several years ago, bombing forward, again he was the next big thing.
"And in pre-season, I'm seen a couple of games and I'm not convinced by them as a back-four unit, again I get bombarded by West Ham fans like Arsenal fans about them buying good attacking players.
"But they always have good attacking players, Felipe Anderson, Jack Wilshere has had a good pre-season, Declan Rice will go on and get better as a centre-half or defensive midfielder.
"But I look at their back four and I'm not convinced."
Collymore is spot on to do so as if Cresswell had lived up to being the next big thing, he'd be the club's current first-choice left-back but that isn't the case based on him and Arthur Masuaku jostling for that position last season.
Masuaku played 27 times across all competitions last season, while Cresswell featured 22 times.
When looking at Cresswell's last four Premier League seasons on WhoScored, it's hard not to see a downward trend.
The 29-year-old's highest average rating and most minutes in the league, most league goals as well as his best disciplinary record came in his 2015/16 campaign.
There may have been times where Cresswell registered more assists, see his 2017/18 campaign, and had slightly better pass accuracy like in his latest campaign and he may have been at his most formidable in the air in his 2017/18 season, he won 1.6 aerial duels per match, but it's clear that his 2015/16 season saw him be a more consistent force.
It's also worth pointing out that Cresswell was deemed good enough for England's squad in 2016, and near the start of 2017, as he won three caps but right now, it'll be a major surprise if he was able to get a call-up to Gareth Southgate's squad.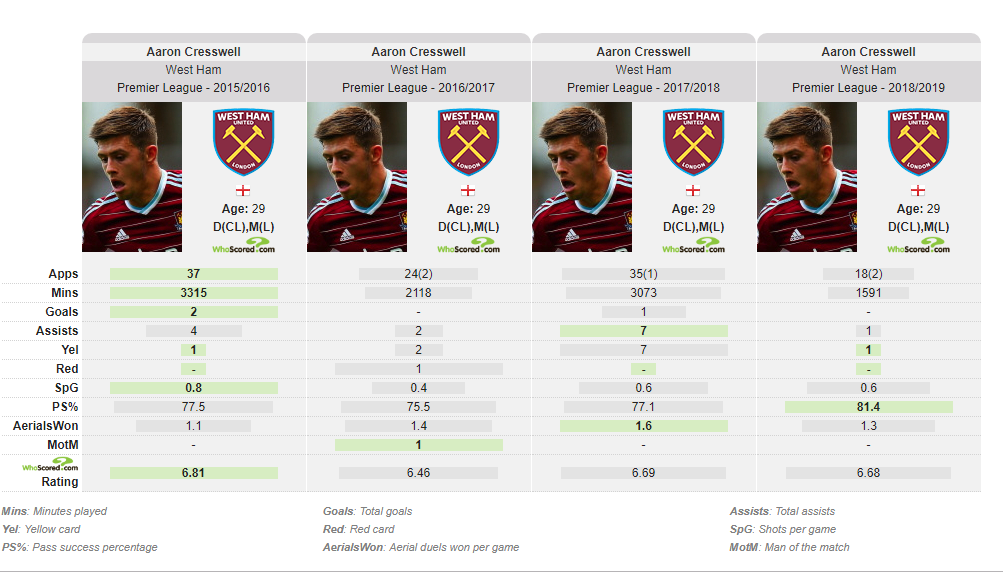 So with that in mind, Collymore is spot on to subtly imply Cresswell is not the player he once was for West Ham.