The Times' chief football writer Henry Winter has praised West Ham United captain Mark Noble after he scored in his team's victory over Watford on Saturday.
The 32-year-old got the Hammers going with a third minute penalty in their 3-1 win at Vicarage Road, and Winter was seriously impressed by the skipper.
"It's an exercise in focus, and Noble embodies that: he's 32, the model pro, an ambassador for West Ham," he wrote in The Times' 'The Game' pullout [26/08; pg. 12].
"When not leading them or spending time with his family, Noble is off fishing. He has never shirked a tackle."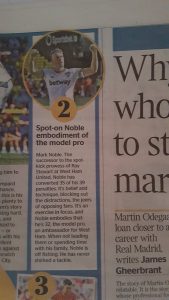 OPINION
It's hard to disagree with Winter's assessment of Noble, here. Because he is so associated with West Ham and is the consummate one club man, it's easy to view Noble's performance through rose-tinted glasses. But, even after removing that particular eyewear, it's hard to say that he wasn't terrific against Watford. The Hammers needed to kick-start their season against the Hornets, and it was the captain who stepped up to steer them to victory. His penalty technique is excellent, which Winter also alludes to, but his overall contribution to the game was excellent as well. The Englishman is very much the model pro, as Winter says, and must be looked upon as a modern day West Ham legend, albeit one who is still performing extremely well week in week out for Manuel Pellegrini's side. As for the fishing aside, that's a nice little nugget from Winter, and shows how Noble enjoys a bit of peace and quiet when he's not in the London Stadium cauldron.