West Ham United's Head of Player Care, Hugo Scheckter, has hailed the pre-season atmosphere within the squad as the best he has ever seen during his time at the Hammers.
The senior figure at West Ham revealed that the morale in the squad is one of the best out of all the clubs he has worked at, including fellow Premier League side Southampton.
Writing on his personal Twitter account, Scheckter took time to laud the Hammers squad and admitted he was ready for a "big season" in East London.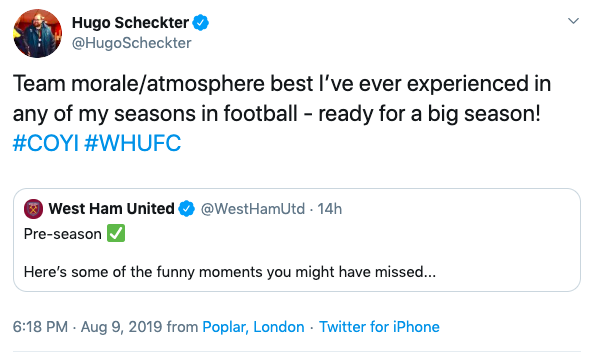 West Ham open their Premier League season against the Champions, Manchester City on Saturday – a team that they have conceded 12 goals against in their last four meetings.
OPINION
This is a message that the Hammers' fans will no doubt love to see, especially given the amount of change surrounding their side throughout the summer. Players who can cause unrest are never healthy in a changing room, and former West Ham man Marko Arnautovic was one who caused exactly that with his evident poor attitude. Selling the Austrian and bringing in fresh faces who are hungry to succeed such as Sebastien Haller and Pablo Fornals can only lead to good things. The morale is highlighted by Fornals, who despite spending a limited amount of time at his new club, already looks to have settled in perfectly, something which is highlighted when you see his relationship with Manuel Lanzini in pre-season. The Hammers have already benefitted from that partnership, with the two playmakers combining for numerous goals. With the squad in the best place, it has been in some time, West Ham are surely set to make a push for European football this season, and could make a real statement against Pep Guardiola's men on Saturday. They must use their home advantage and morale as tools to dethrone the rampant City.