OPINION
West Ham United midfielder Declan Rice really took his career to the next level last season.
The 20-year-old formed a great partnership in the heart of midfield with captain Mark Noble, which saw the Hammers improve dramatically, with the blend of youth and experience working perfectly.
Rice ended the season with international recognition, with Gareth Southgate deciding to give the midfield man the chance to star in the UEFA Nations League against Holland.
Despite last season's success, Rice struggled in West Ham's Premier League opener against Manchester City on Saturday and was bypassed with ease on multiple occasions by the ruthless City.
Sir Geoff Hurst has admitted to the Daily Star that he wouldn't be surprised if the big clubs came in for Rice soon, but also suggested that a position change could suit the youngster perfectly.
"Of course the big danger its any young player at any club, and at West Ham, outside the top six is when one of the top six boys comes sniffing along," he said.
"People are saying he looks possibly more likely to be groomed as a central defender who can tackle, head, he's composed at the back. That may well be his best spot."
Hurst is right to suggest that big clubs are going to be sniffing around Rice in the coming years, but he must think twice over his suitability in the heart of defence.
Yes, Rice started his career as a defender in the Hammers' academy, but he has been moulded into a holding midfielder, and to change that now could halt his progress.
Comparing Rice to West Ham's current defensive pair, Fabian Balbuena and Issa Diop via WhoScored, there is no need to be changing the 20-year-old's position right now.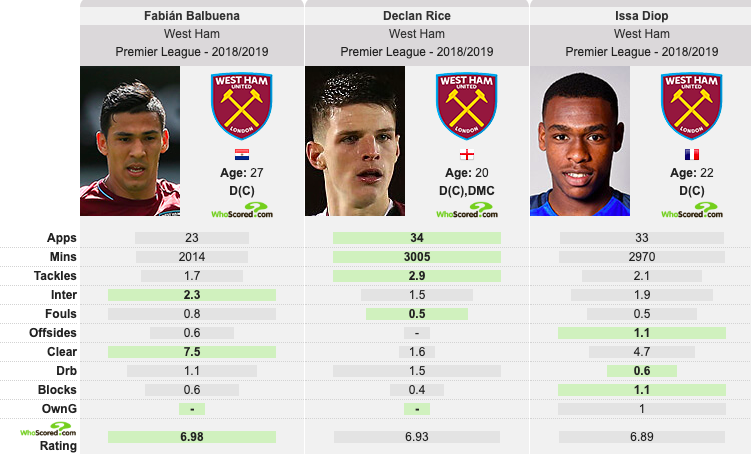 Rice is settled in midfield – something which is proved by the fact he made the most tackles per game, a stat which proves that he relishes being in the middle of the park and amongst the action.
Both Diop and Balbuena did, however, average significantly more clearances, with their physical presence also leading to them averaging more interceptions and blocks when called upon.
Hurst must definitely think twice over his verdict on Rice, who must surely stick in midfield and continue to make a positive impact on the Hammers' side.