West Ham United co chairman David Gold sent a lengthy message to the club's supporters regarding the sale of youngster Reece Oxford on Friday.
The Hammers announced the end of the 20-year-old's eight-year stay in east London on their official website on Friday, and Gold moved quickly to update the fans.
"Good Afternoon All," he wrote on his personal Twitter account. "Reece Oxford.
"Please note that the documentation has just been completed for the permanent transfer of Reece Oxford to FC Augsburg (Germany). dg."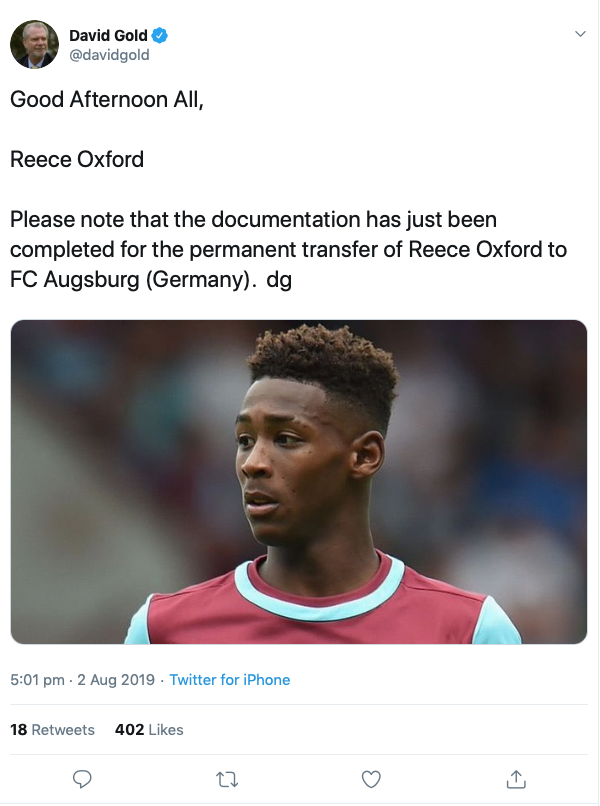 OPINION
This isn't the warmest exit message from the West Ham co chairman, was it? It doesn't seem like there is a lot of love lost between Oxford and Gold, and the latter, probably like the rest of us, is disappointed with the huge waste of talent the youngster has devolved into. There was so much potential with the Englishman when he first burst onto the scene under Slaven Bilic with that wonderful performance against Arsenal. However, it quickly unravelled and several managers in succession have now deemed him unworthy of their time. He did OK in a loan spell with Augsburg over the second half of last season, so hopefully he can take the ball and run with it over in the Bundesliga now. He's certainly enjoyed the best form of his career over in that part of the world, although that's not really saying much at this stage. Clearly, though, Gold didn't want to give him an effusive farewell.