David Gold has taken to Twitter to confirm Josh Cullen's loan exit from West Ham. 
The 23-year-old midfielder has joined Charlton Athletic on a season-long deal, with the Hammers retain the right to recall him at any point during the first half of January.
Writing on his personal account, Gold said: "Please note that Josh Cullen has today joined Charlton Athletic on a season-long loan.
"However we have the right to recall him during the period 1st to 15th January 2020.
"Good luck Josh."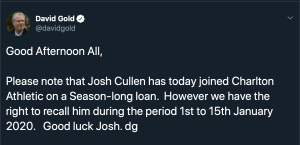 OPINION
This probably isn't the greatest surprise in the world, truth be told. Cullen never really looked as if he was going to break into the Hammers' first team this season, and it makes far more sense for a 23-year-old to be out playing every week than rotting on the bench or kicking his heels for the reserves. What is interesting, however, is the decision to put that recall option into the deal. Clearly, the Hammers are unsure as to just how well Cullen is going to perform this year, and there is evidently some doubt as to whether he will finally come good on the potential that he is shown for so long. If that happens, the Irons clearly don't want to be caught short, especially with the player having just a year left on his current deal, and the insurance policy they have put in place could prove to be a very shrewd one.