OPINION
After West Ham's opening day thrashing at the hands of Manchester City, Manuel Pellegrini will be scratching his head over his side's defensive woes.
The five-goal demolition wasn't the start of their problems though, as the Hammers consistently looked fragile in pre-season and conceded at will in almost every friendly they played.
There is an argument that Pep Guardiola's side will do that to many sides this season in the Premier League, but in all honesty, West Ham were dreadful in defence and could have conceded more.
Pellegrini went for a more defensive lineup by replacing Pablo Fornals with Michail Antonio, but the absence of Mark Noble was really felt in the heart of midfield.
Sky Sports pundit Darren Bent revealed to Football Insider that the omission of Pablo Zabaleta left a gaping hole at the back and that the Argentine should be starting every game for the Hammers.
"I do think he should be playing every game. I know he's getting on and that but for leadership and experience, knowing how to defend properly, organisation – someone of that calibre, who's won the biggest trophies, you need that," he said.
Ryan Fredericks will surely have a bone to pick with Bent over his defensive verdict, with the English flyer surely the better option to use against the majority of sides in the Premier League.
With the Hammers strengthening their side significantly in the summer, Pellegrini will surely be hoping his team can dominate many opponents and be on the front foot this season.
When comparing Fredericks to Zabaleta via WhoScored, it is there to see that the former Fulham man can offer more up and down the right-hand-side.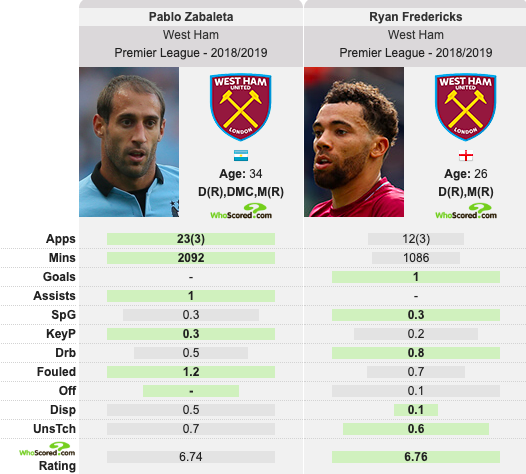 The 26-year-old played significantly fewer games last season, he took much better control of the ball when dribbling – averaging fewer bad touches which led to him being dispossessed less.
Fredericks also completed more dribbles and averaged the same amount of shots per game than Zabaleta, with his pace being the main factor that sets them apart.
The Englishman will surely have a bone to pick with Bent and will be eager to prove his capability as the season grows older.