Stan Collymore has claimed that Jose Mourinho has put himself in the shop window after his television appearance, and has backed West Ham United as a potential suitor for the Portuguese man.
The former Liverpool and Nottingham Forest playmaker believed that Mourinho wanted to "sell himself" and that clubs such as Wolves, Everton, and the Hammers could be tempted.
Writing on his personal Twitter account, Collymore warned Manuel Pellegrini and managers alike to watch their back.
"Clever from Jose. Hasn't been offered a club that he wants so far so sell himself on TV," said Collymore. "Philosophy, humour, charm will have a chance to regularly to say 'I'm here'.
"None of the top-six needs him, so Wolves (Mendes), Everton, West Ham managers, in particular, watch your backs!"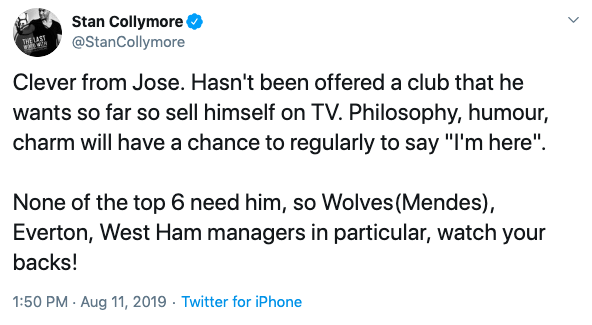 Mourinho has been without a job since leaving Manchester United at the end of 2018 after taking charge of 144 matches and winning the UEFA Europa League.
OPINION
Pellegrini certainly doesn't have to worry about the potential of being replaced by Mourinho any time soon. The Chilean has just been seriously backed in the transfer window and has officially imprinted his style and ways on this West Ham side, and to get rid of that so quickly would be reckless. To say that the former Chelsea boss is using his television appearances as a way to advertise himself as available is also nonsense, with Mourinho all but certainly being given multiple offers to return to football by now. The 56-year-old is no doubt biding his time and waiting for the perfect opportunity, and clubs outside of the top-six in the Premier League are probably not on the radar at this moment in time. Pellegrini and West Ham will continue as usual, and they must push harder than ever after Saturday's 5-0 thrashing by Manchester City proved that the Chilean will need to work some magic to make his side better – something that Mourinho is notoriously good at. Pellegrini has an average point per game tally of 1.39 with the Hammers, with Mourinho's lowest tally after leaving his first job at Benfica sitting at an impressive 1.96 [Source: Transfermarkt]. Collymore is reading too much into Mourinho's television appearance, and managers outside of the top-six can definitely rest easy, for now.