West Ham United have taken "highly-rated" Chelsea forward Adrian Akande on trial, according to ExWHUemployee.
The reliable club source revealed that the Hammers have given the 15-year-old the opportunity with a view to a permanent move this summer.
ExWHUemployee reported the news on his personal Twitter account on Wednesday, revealing that Akande has also attracted interest from top European clubs.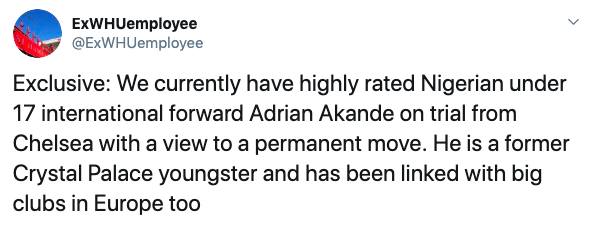 The Nigerian under-17 international forward impressed with Chelsea but has been given the chance to impress West Ham after rejecting the chance to play for England.
OPINION
West Ham could certainly be on to a winner by offering Akande the chance to impress at the club. Should the young Nigerian forward do that, he could secure himself a permanent move to the club and look to push forward in the club's youth ranks before eventually attempting to breach the senior side. Despite only being 15-years-old, Akande still was in great form in front of goal last season having scored 30 goals in 42 appearances for Chelsea's youth sides last season, what makes that feat more impressive is the 22 assists he also added to that tally. Should Akande choose to switch to the Hammers, it would end a three-year spell at the Blues, the club he joined when he was 12-years-old, and a club where he made great progress on to the international stage as well. To be wanted by England is something that shouldn't be overlooked by the Hammers, who should snap at the chance to bring in the electrifying youngster who can clearly play anywhere across the front-three whilst adding both goals and assists.