OPINION
Sun journalist Duncan Wright appeared to hand Manchester United some transfer advice by suggesting West Ham star Declan Rice was their best option to sign this summer.
The national reporter acknowledged that Manchester United need to replace Nemanja Matic with a fresh face and compared the options they had been linked to.
The Sun previously reported Man United were lining up a £50million for Aston Villa midfielder John McGinn, the Metro claimed that the Reds Devils were willing to pay £30million for Newcastle United ace Sean Longstaff and The Sun stated that Man Utd had enquired about Rice.
Wright stated that Rice was the best out of the three midfielders to go for as he shared he thought the 20-year-old had proven himself in the Premier League.
"He's returning (Longstaff), so it's no gimme he is going to come back and hit his stride at the highest level," said Wright on talkSPORT (14:11, Sunday June 30th).
"But if you're replacing Matic, and you've got McGinn, Longstaff or Rice, who would you go for? I'd go for the one who has proven themselves over the season in the Premier League for West Ham, in a not very good side at times.
"He was controlling games in midfield, he just does the simple things, he reads things so well and if you're United you'd go and pay £60million for Declan Rice ahead of £45million for Sean Longstaff."
It's no surprise to see Wright suggest Man United would be better off going for Rice rather than Villa's McGinn the Magpies' Longstaff to replace Matic at OldTrafford, as the stats agree with him for the most part (Source: WhoScored).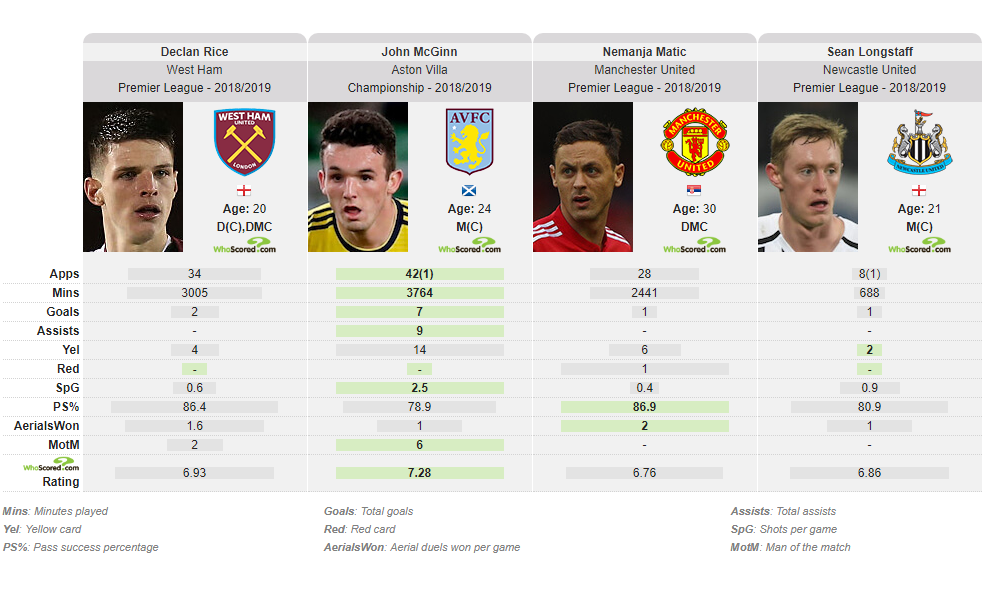 While McGinn wowed in the Championship for Aston Villa last season, seeing him come out top in every category bar yellow cards, he racked up a lot with 14, pass completion rate, he ended on 78.9% and aerial duels won, he only ended with one victory; he doesn't have any Premier League experience.
Not only that, the 24-year-old's lack of top-flight experience in England, which makes him a gamble, doesn't see his price tag be any more reasonable.
So if a lack of Premier League experience rules him out, then Rice is the best option.
The Hammers midfielder has the best pass success rate out of the trio, the highest amount of aerial duels won, the most Premier League Man of the Match awards and the highest average rating barring McGinn.
While Longstaff averages more shots per game than Rice with 0.9, it's worth noting that Matic's role at Manchester United isn't to be the attacking force in midfield, hence why he averages o.2 shots per game; so that shouldn't be a factor.
However, while it's nice to hear a journalist rank Rice ahead of two other midfield rivals, Hammers fans will surely have a bone to pick with him.
Given how good Rice is, they don't want their club to lose him so won't appreciate Wright effectively advertising his services to a Premier League rival.