OPINION
West Ham midfielder Jack Wilshere looked full of passion during a clip of him in action during pre-season and that could aid him well in the 2019/20 campaign.
The Hammers' official Twitter uploaded a clip of the 27-year-old midfielder scoring in training, though you can't see how good the goal was due to the angle, but what you can see how much doing well means to him.
Wilshere had a smile on his face as he dribbled around obstacles before firing the ball at goal and then notably shouted yes in order to let it be known how much he enjoyed scoring.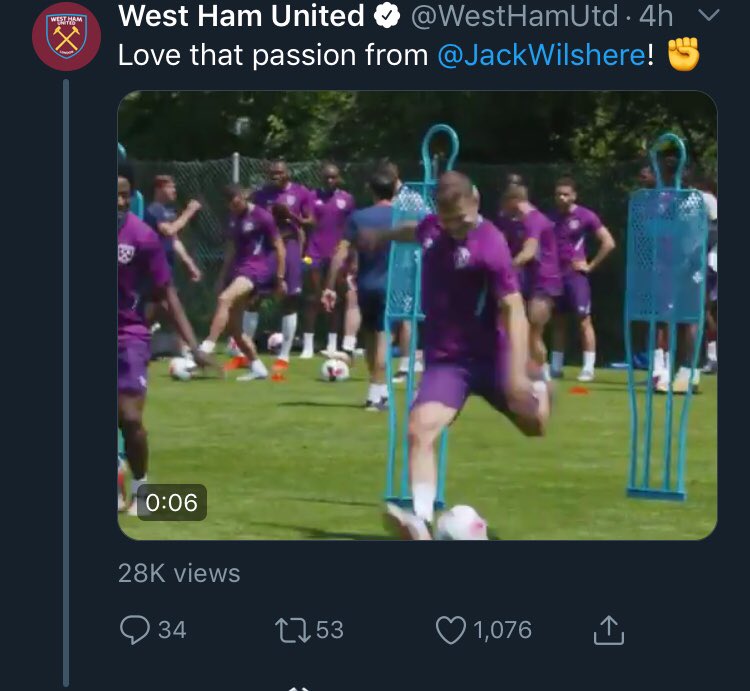 Wilshere should bottle that passion as a player that excited about pre-season will no doubt be an asset on the pitch as they will do whatever they can to see West Ham win.
In fact, it could boost the 27-year-old's first-team chances as why wouldn't Manuel Pellegrini be impressed by his passion?
Wilshere is certainly in need of any help he can get regarding his first-team status, as his debut season at the London Stadium in his 2018/19 campaign didn't go to plan.
The midfielder only managed to play 389 minutes of league action, as per Transfermarket, across his eight outings with injury wrecking his season.
Wilshere didn't overly impress either when he got the pitch as he only averaged a rating of 6.68 across his outings, only averaged 0.3 shots per game and averaged as many fouls per game as he did tackles (0.9, according to WhoScored).
Also when you consider that Wilshere will have fresh competition for a place in midfield due to the signing of Pablo Fornals, he has to find a way to stand out.
So why not let his passion help him get across the line as after all he certainly has the talent as it's not by an accident that he has appeared 174 times in the Premier League.