Chris Sutton delivered his verdict on West Ham attacker Marko Arnautovic leaving the London club to join Chinese outfit Shanghai SIPG and seemed to be sarcastic in the process.
The Hammers confirmed on Monday with a 43-statement, via their official website, that the Hammers forward had completed a move to Shanghai SPIG.
Sutton instantly replied to the news to claim that in fairness to Arnautovic, he wanted to go win trophies in China.
"But in fairness, Marko wanted to go to China to win trophies…" wrote the pundit, via his official Twitter account.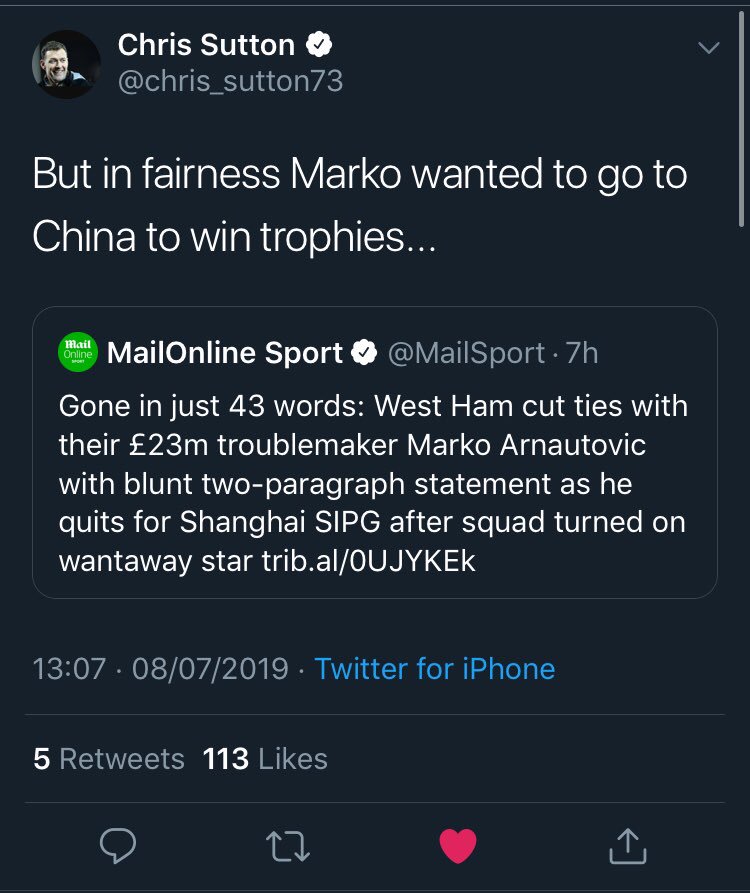 OPINION
You feel Sutton wasn't genuinely trying to defend Arnautovic leaving West Ham in order to join a Chinese club,  but was trying to bait a response from fans. While the 30-year-old forward will likely have an easier time adding to his trophy cabinet in China then he would have had if he had opted to stick around at the London Stadium, it's doubtful the forward moved for the glory. The Sun reported on Monday that Arnautovic was set to earn a staggering £280,000-a-week at his new club, which suggests that money may be his motivation. After all, when the forward previously kicked up a fuss about moving to China in January, the Hammers nipped the issue in the bud by having him sign a new deal (Source: BBC). While it wasn't confirmed whether the Hammers gave Arnautovic a pay-rise in January to try and stop him wanting a move, it does seem likely that they kept him happy for the final months of the season by giving him a little more in his pay packet. Arnautovic scored 11 goals in his 2018/19 campaign for the Hammers, and it'll be interesting to see who steps up in his absence.