West Ham attacker Robert Snodgrass cheekily claimed Ryan Fredericks was missing his Hammers teammate Declan Rice during pre-season.
Rice previously revealed in an interview with Stadium Astra that Fredericks was his best friend at West Ham, and it seems that Snodgrass is aware of the pair's friendship.
Rice saw Snodgrass send him a five-word message to joke about Fredericks missing him at the Hammers' training camp, after previously just applauding the Hammers attacker, via his Instagram, for revealing it was his 16th pre-season.
"Fredericks is missing you badly," wrote Snodgrass via his verified Instagram account.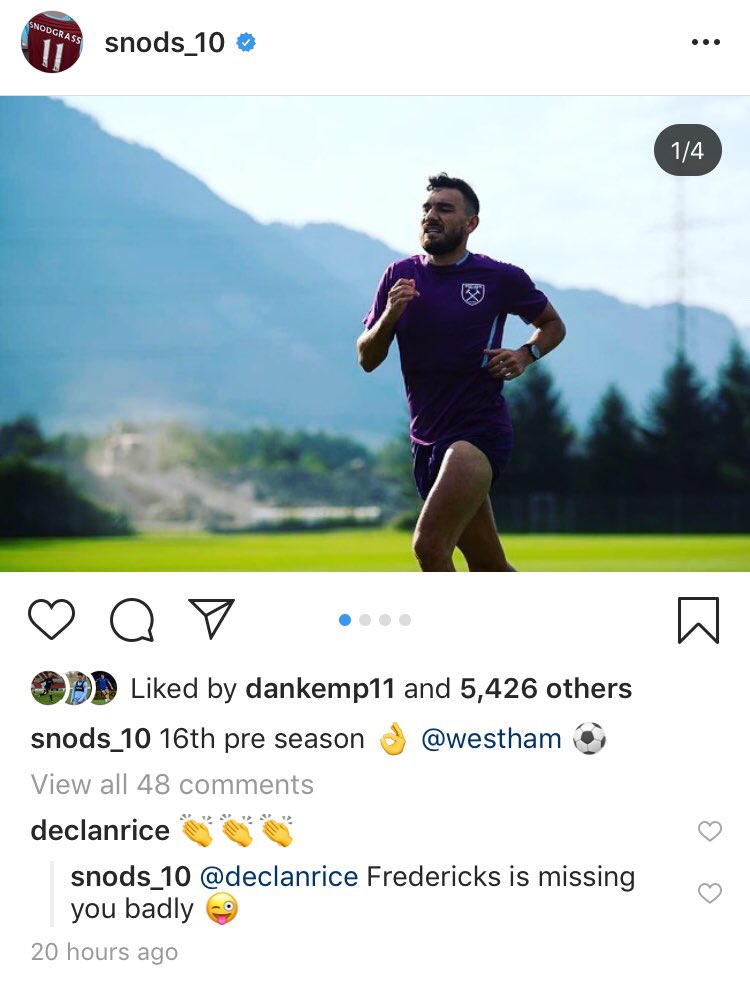 OPINION
The Hammers previously confirmed that Rice wasn't at West Ham's training camp just yet due to being given extra time off following his international commitments, however, it seems he is missed. While Snodgrass joked that Fredericks was the one missing the 20-year-old midfield enforcer, the Scottish international clearly misses his Hammers teammate too based on how quickly he responded to him. With this in mind, it's really good to see the Hammers' squad getting on so well, as that can only be a good sign going into the 2019/20 campaign. Also, Snodgrass' Instagram post about it being his 16th pre-season, also highlights how useful his experience could be in the coming campaign. The 31-year-old is a wealth of knowledge after appearing 136 times in the Premier League, and should be an inspiring story for those youngsters at the club trying to break into the first-team. After all, Snodgrass proved in his 2018/19 campaign, that hard-work is rewarded at the London Stadium. The 31-year-old spent his 2017/18 campaign so far out of the first-team picture that he was sent on loan at Aston Villa, however, he regularly featured for the Hammers in Manuel Pellegrini's first season at the club. The winger played 38 times in the Premier League, scoring two goals while assisting five, and ended up with a decent pass success rate of 82.1% as well as three Man of the Match awards to show for his efforts (Source: WhoScored).