West Ham star Declan Rice told Chelsea midfielder Mason Mount that he was going in his fantasy football team this season.
The Chelsea youngster had previously taken to his personal Instagram account to share he was still working hard and improving after featuring in the Blues' 4-3 win over Reading on Sunday.
"Another tough pre-season game, we keep working hard and improving," wrote Mount.
Mount's post and two goals in the 4-3 win over Reading saw Rice send him a message on Instagram to tell him that he was going in his fantasy football team as of now.
"You're going in my fantasy team," wrote the Hammers midfield enforcer, via his verified Instagram.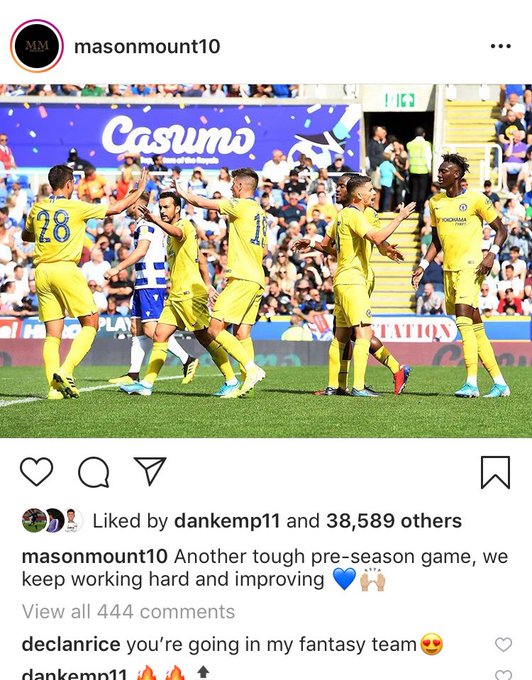 OPINION
Mount scored two goals against Reading and if he is able to stay among the goals while featuring for Chelsea, then he'll surely rack up the points for Rice's fantasy team. The 20-year-old would also no doubt prove to be great value if that ends up being the case as he will likely not cost much on fantasy football due to spending his last campaign in the Championship. Mount scored 11 goals and assisted six while on loan at Derby County in his 2018/19 campaign, and is no doubt looking to make the step up to the Premier League with the Blues. The 20-year-old has never played for the Blues' senior side despite being at the club since a boy, but will likely get a chance now that Frank Lampard is his manager at Stamford Bridge. The current Chelsea boss no doubt rates Mount highly as he personally oversaw his development at Derby last season and thought enough of him to borrow his services from the Blues. Given that Mount and Rice seem quite close friends, it'll be interesting to see if the Chelsea midfielder ends up putting the West Ham man in his fantasy football team in return.