Burnley goalkeeper Joe Hart sent a message to Pedro Obiang after the midfielder addressed his exit from West Ham on social media.
The Hammers previously confirmed on their official website that the 27-year-old midfielder had joined Italian side Sassuolo for an undisclosed fee, and Obiang opted to send a message to West Ham following his move away on his personal Instagram.
"First of all, I would like to say thank you to everyone in the club – it has been a great honour representing @westham over the past 4 years," wrote the midfielder," wrote Obiang.
"I'll begin with the bitter sweet moments as I would have liked to have done better for this deserving club and bring the fans greater joy and pride, however, being sincere as a Hammer we have all experienced many changes, albeit for the best!
"I would have preferred to have avoided my injuries but I gained a lot and learned to truly appreciate the fans for their continuous support throughout those difficult moments.
"And now the truly special and sweet… During my time as a Hammer I have experienced personal growth and experienced significant moments in my life.
"I became a father, I became more mature and self aware and I had the opportunity of getting to know a wonderful city, and also reach my dream of playing in the Premier League and to do so for such an important club in world football. Thank you to West Ham United for making my dreams a reality.
"After 4 years at this great team, it's time for me to move on, but not without a heavy heart. I will thoroughly miss the club, it's incomparable and faithful fans and my dear teammates.
"I wish you all the best and hope you win as much as possible, because you deserve it.
"Although it's not often seen, you guys have worked tirelessly behind the scenes and deserve it all. Muchas Gracias, Pedro
"COME ON YOU IRONS!⚒"
Following Obiang's long post explaining his exit from West Ham and his feelings towards the club, Hart sent him a two-word message to wish him luck on the next chapter of his career.
"Good luck," wrote Hart via his Instagram account.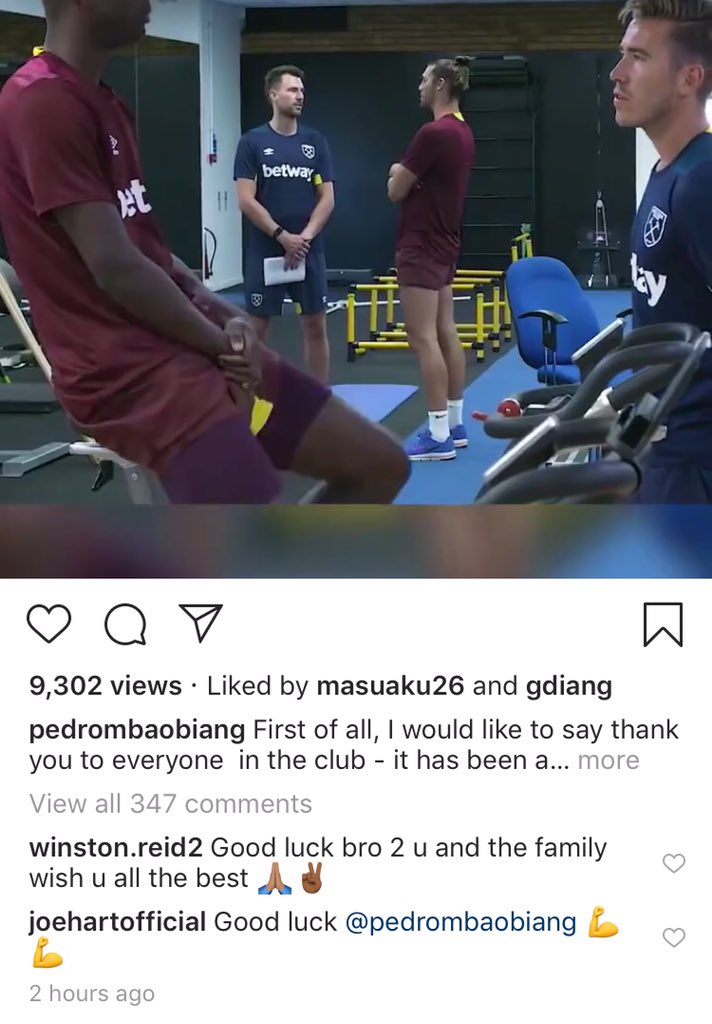 OPINION
Obiang's heartfelt message addressing his exit from West Ham surely moved even the toughest Hammers fan as the 27-year-old clearly loved his four-year spell with the club. The fact the midfielder, who made over 100 appearances, wishes he could have done more to bring success to West Ham is truly inspiring. Obiang comes across as a generally nice guy and you feel West Ham's dressing room will be worse off for him not being there. It may not have always gone right for the 27-year-old on the pitch, but having someone who values playing for the club, clearly was a positive thing. Obiang made 26 across all competitions last season for Manuel Pellegrini's side, averaging a rating of 6.44 (Source: WhoScored), and you feel a replacement for him needs to be signed to cover his exit. Without the Spanish midfielder to call upon, Pellegrini doesn't look like having enough depth for his central midfield options especially when you consider that Jack Wilshere is coming off the back of an injury-hit season.