West Ham co-owner David Gold revealed he was impressed by the latest remarks by West Ham attacker Robert Snodgrass.
The Hammers winger shared in an interview with West Ham's official website that he was personally aiming to build on his 2018/19 campaign as he had a desire to become a better player.
"For me, it's about trying to build on last season now. I want to try and get more goals and more assists and be the best teammate I can be. I will take it one per cent at a time and do the best I possibly can," said Snodgrass.
"I'm driven by a desire to be a better player, to listen and to learn. We're all constantly learning, and the manager and his staff will want to implement more, new ideas this season. To be a part of that going forward, I'm delighted."
Gold saw a snippet of these quotes on Twitter and delivered a one-word verdict on them by simply saying impressive.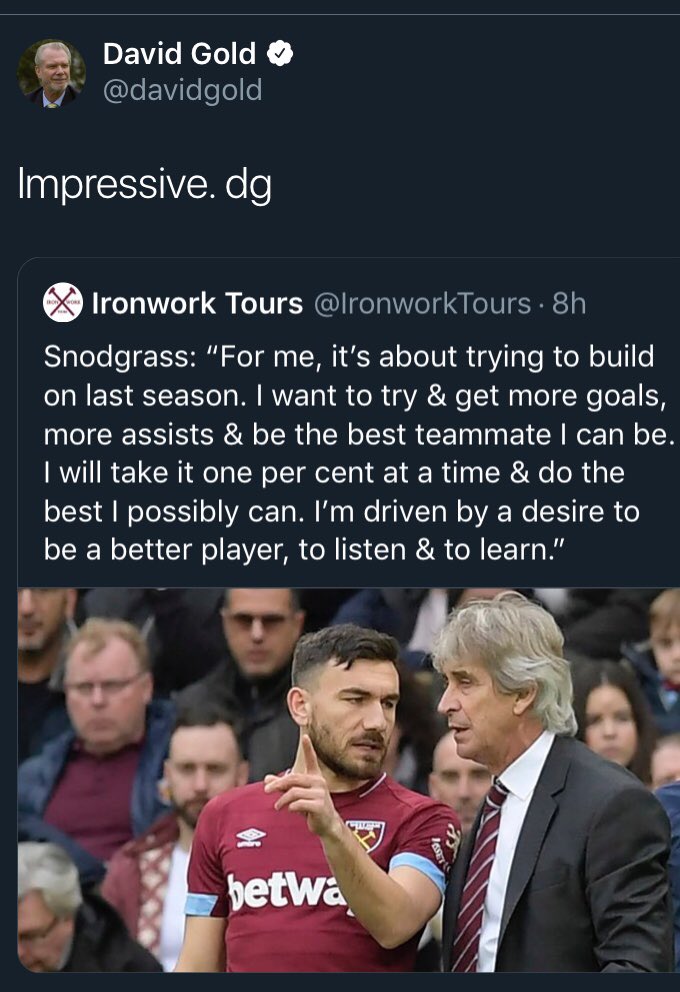 "Impressive. dg" wrote Gold via his official Twitter account.
OPINION
Snodgrass has a tremendous attitude and these remarks prove that. The 31-year-old winger was once given the cold shoulder by West Ham and sent out on loan to Aston Villa in his 2017/18 campaign, but did that see him throw in the towel regarding his chances at the Hammers? No. Snodgrass returned from his loan stint in the Championship last summer and clearly was determined to prove a point. That point being that he is good enough for the Hammers first-team, and he achieved his mission. Snodgrass featured 33 times in the Premier League during his latest campaign for the Hammers, scoring three goals and assisting five in the process. The winger averaged 29.36 passes per games, won 61% of his attempted tackles, and created five big chances in his league outings (Source: Premier League). These stats are decent and show the impact Snodgrass can have on the team, and if he can improve even further, despite being the wrong side of 30, it will be a fantastic boost for the Hammers.