Carlton Cole sent West Ham defender Winston Reid a message on Instagram to claim the centre-back knew all about overcoming obstacles.
The former Hammers forward had previously taken to his Instagram to post an inspirational message to suggest that with hard work there are no limits to what you could achieve.
"There will be obstacles," wrote Cole via his verified Instagram account.
"There will be doubters.
"There will be mistakes. But with hard work, you can make your own luck, there are no limits to what you can achieve."
Cole's inspirational post saw Reid reply to agree as he said "truth", via his personal Instagram account, before the retired attacker sent a five-word message to state that Reid knew first hand what hard work could achieve.
"You know first hand brother," wrote Cole.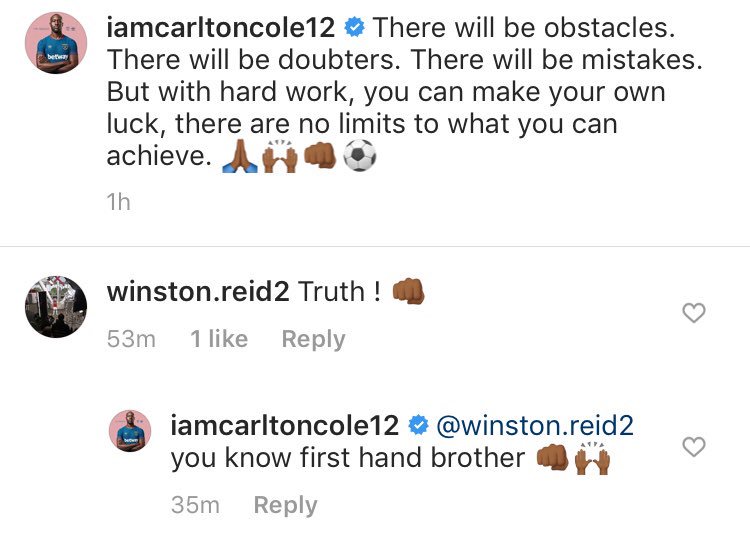 OPINION
It's fair to say Reid has had more than his fair share of setbacks in recent times, and Cole is probably right to suggest that Reid knows that it takes hard work to overcome obstacles and is aware that there will be people who doubt him. The Hammers centre-back, who earns £70,000-a-week (Source: Spotrac), made no appearances for Manuel Pellegrini's side during his 2018/19 campaign due to injury. Reid picked up a serious injury against Swansea City in March 2018 and the issue ended up keeping him rooted to the sidelines for 484 days (Source: Transfermarkt). The defender's 2017/18 campaign was also equally wrecked by injury as Reid suffered a groin strain and a calf strain that saw him miss 46 days of action. However, after appearing for the Hammers against Manchester City and Newcastle United in pre-season, it seems Reid is putting in the work to help him get back in the first-team. When you consider that the centre-back is 31-years-old and trying to return from such a long-term spell on the sidelines, there will be some who will doubt that he'll be able to make an impact at the London Stadium in his 2019/20 season.