Felipe Anderson sent a heartfelt message to Pedro Obiang on Instagram after the midfielder secured a move away from West Ham.
The Hammers' official website confirmed on Wednesday that the Spanish midfielder had exited West Ham in order to join Italian side Sassuolo for an undisclosed fee.
Following Obiang's exit, Anderson took to his verified Instagram account to wish his former teammate all the best and inform him that he is happy to have become friends with him.
"I want to wish you all the best for your career, fly there, you have so much to give, thanks for everything," wrote the Brazilian playmaker, once translated.
"I am happy to have become your friend, you are a fantastic person. I love you."
Obiang then responded via his personal Instagram account in order to tell Anderson that he will miss him before adding that he will see him soon.
"I will miss you see you soon," wrote the midfielder.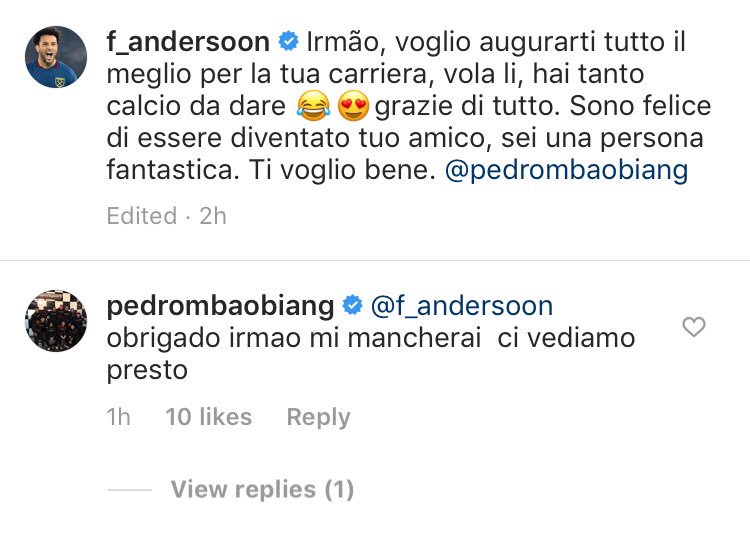 OPINION
Obiang and Anderson clearly built up a strong rapport from playing together at the London Stadium last season, and the Brazilian sent the former Hammer a really sweet message upon his exit as a result. Obiang appeared 116 times for the Hammers in his four-year spell at the club, scoring three goals in the process, and will be sorely missed by the team, not just Anderson. The 27-year-old regularly featured for the Hammers last season, he averaged a rating of 6.44 (Source: WhoScored) across 24 appearances in the Premier League, and was clearly first-choice cover for defensive midfield pair Mark Noble and Declan Rice. Without him to call upon, you have to question whether Manuel Pellegrini has enough depth in his midfield. If Noble or Rice get injured, then Pellegrini is either going to have to turn to a youngster or play someone out of position. However that situation could change if the Hammers sign a replacement for Obiang before the window shuts, and hopefully, they do as that would be the best-case scenario.