OPINION
For many, the Premier League is the best domestic competition in world football. 
The gap between the top six and the rest of the division may have widened in recent years, and there is the definite threat of a duopoly forming in terms of the title race, but for millions of fans worldwide, it is the most competitive, unpredictable, and exciting league on the planet.
So, understandably, you have to be pretty good to play in it.
What's more, you have to really, really good to make a long term career out of playing in it.
So hats off to Pablo Zabaleta, who has not only managed that feat, but also established himself as one of the finest right full-backs the division has ever seen.
Two titles with Manchester City, plus an impressive turn with West Ham, will no doubt ensure that he is remembered fondly for years to come, but as the old adage goes, everything must come to an end.
And it seems that the Argentine has now picked his time to bow out.
As reported by journalist Pete O'Rourke, the 34-year-old has decided that next term will be his last in the English game, and while that is a crying shame, it is also the right thing to do.
Pablo Zabaleta has revealed the coming season at West Ham will be his last in English football. #whufc

— Pete O'Rourke (@SportsPeteO) July 16, 2019
Since joining the Hammers on a Bosman from City, he has slowly begun to unravel in the face of the relentless pace of attackers who are getting increasingly younger than him.
Compared to his turn in the title winning side of 2013/14, it's easy to see that he has regressed.
In 13/14, Zabaleta made 3.4 tackles per match, as well as two interceptions, and registered a Whoscored rating of 7.25.
By comparison, last year he managed just 1.8 tackles, 1.8 interceptions, and a rating of 6.74.
Some stats have improved, but differences are marginal, and you have to remember that this West Ham side does a whole lot more defending than City ever did when they won the league.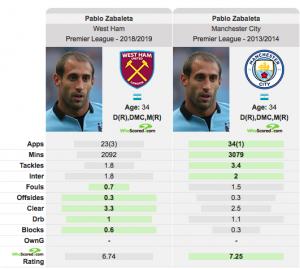 Zabaleta has been some player, and will rightly be remembered as a Premier League legend, but another year at the top before saying his goodbyes is the rigth decision.