OPINION
One of the biggest improvements that went under the radar at West Ham last season was their defence.
The season before last, the Hammers had one of the leakiest defences in the Premier League, conceding 68 goals. Compare that to this season – Pellegrini transformed his backline with the introductions of Issa Diop and Fabian Balbuena, and the proof was in the pudding as West Ham only conceded 55 goals. [Premier League]
Having said this, the improvement in defence could have had an effect on the way the Hammers start their attacks, with their full-backs possibly more concentrated on being solid at the back.
Former Arsenal winger Adrian Clarke has written a report on each Premier League side before the start of the new season, highlight the Hammers weakness on the flanks.
Teams such as Liverpool have shown the way in the previous campaign, with their two wing-backs Andrew Robertson and Trent Alexander-Arnold both being towards the top of the assists chart, combining for a total of 23.
When you put the spotlight on their left-hand side, Cresswell and Masuaku didn't flourish when going forward with the ball last season.
Looking at their stats via WhoScored, it is clear to see that they must add more of an attacking threat to their game in pre-season.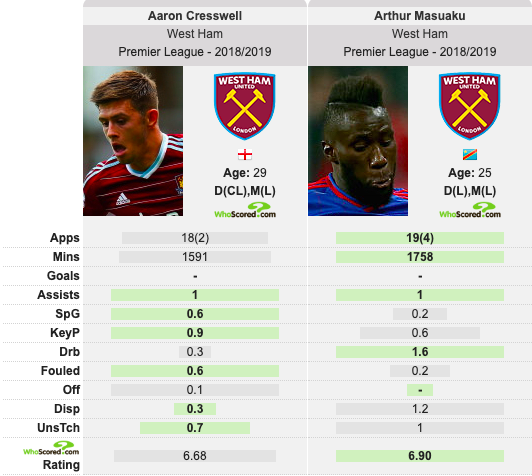 The pair only combined for a total of two assists in 37 starts, something that is far from good enough. When exploring their other contributions, it is clear to see why there is a lack of attacking threat. The pair both average a considerably small amount of dribbles and key passes per game – showing their lack of want to push forward in games.
It doesn't get much better on the other flank, with Zabaleta and Fredericks performing even worse if that's possible.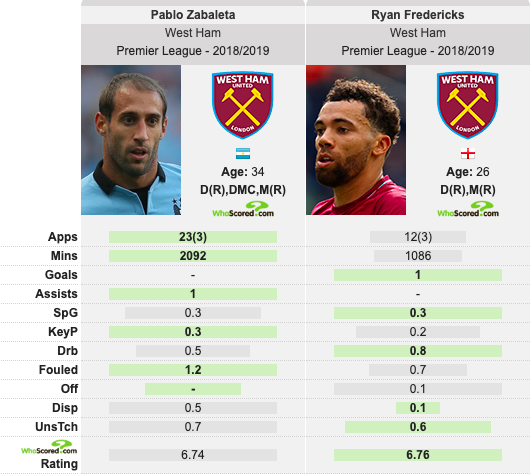 The right-hand side pair have only combined for a single assist in 35 Premier League starts, meaning between Pellegrini's four defensive options out wide they have contributed a total of three assists – something that needs to change in they crave European football.
Both Zabaleta and Fredricks have terrible attacking averages and attempted under one dribble per game, alongside their lack of ability to produce a key pass, something they do once every three games at the most.
West Ham must improve in this area, or face the severe consequence of being left behind by their nearest rivals in the Premier League.