Declan Rice has delivered a Twitter message to West Ham Women and their manager Jack Sullivan.
The Hammers' ladies' team have been the focus of a BBC documentary over the past season, and the England international has been eager to express his support for the side.
Writing on his personal Twitter account, Rice said:"Have really enjoyed watching the West Ham Women documentary on BBC iPlayer.
"Exciting times for the team and hoping they go from strength to strength next season, let's give them all our support."
He then tagged manager Jack Sullivan, grandson of Irons' owner David, in the post.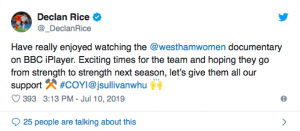 OPINION
It's great to see players with the profile and talent of Rice getting behind the women's game like this. West Ham dod fantastically well to reach the FA Cup final last season, and it's pleasing to see the team get the credit that they deserve from one of their male counterparts. Hopefully, if a few more players spoke out like Rice has here, it could attract a bit more attention to the women's game. Another logical way of doing that would be to host double headers, where both teams played back to back on a Saturday afternoon at the London Stadium. Whether that is realistic or something that club are keen on doing remains to be seen, but certainly, it would be a relatively easy way to help harness some of the burgeoning attention being focussed on the women's game after a great World Cup.