West Ham United have completed a £36million deal for Eintracht Frankfurt striker Sebastien Haller, according to Italian journalist Nicolo Schira.
The Gazzetta dello Sport reporter revealed the news on his personal Twitter account on Wednesday, claiming that the Hammers have agreed to spend the aforementioned amount on the 25-year-old.
The Frenchman is thought to have agreed to a five-year contract through to 2024 with the east London side, presumably taking the departed Marko Arnautovic's place in the starting line up.
Haller was involved in 32 goals in the 2018/19 season, scoring 20 times and grabbing 12 assists, despite playing second fiddle to now-Real Madrid superstar Luka Jovic.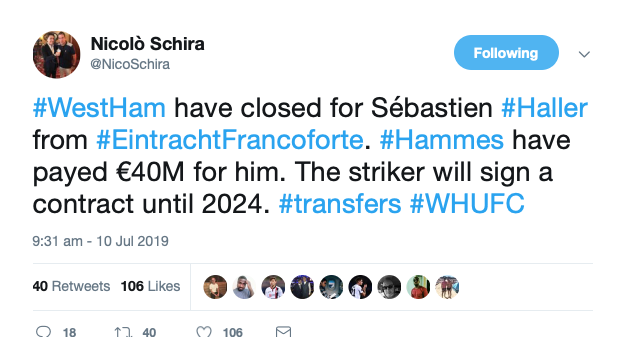 OPINION
Well, this is quite something, isn't it? Just a day after Sky Sports reported that the Hammers' deal for Celta Vigo striker Maxi Gomez is off, it appears that the Irons may have found a replacement option to take the place of the Uruguay international. The West Ham fans, though, will be thinking that they may end up with a superior frontman here. Haller scored more goals than Gomez last term and was involved in more assists, all while playing alongside Jovic. £36million is a lot of money, but it's roughly the same as what they were prepared to pay for Gomez. It's clear that after the departures of Arnautovic, Andy Carroll and Lucas Perez, that Manuel Pellegrini needs to sign at least one new attacker. Haller, it would appear, is his man. Schira seems to think the deal is done and that a five year contract has been agreed. The Hammers supporters will be desperately hoping that he's correct.