West Ham United co chairman David Gold has revealed that he is feeling optimistic about his team's chances next season.
The Hammers are preparing to head into their second season under the guidance of well-respected manager Manuel Pellegrini, having finished 10th last time out.
And Gold is clearly feeling pretty good about how things are developing in east London: "I'm good thank you and optimistic for the coming season. dg," he replied on his personal Twitter account after a West Ham fan asked him for a prediction for the new campaign.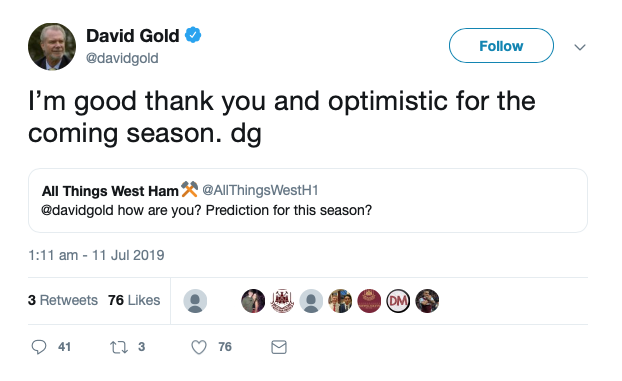 OPINION
Gold is certainly one of the most open and accessible Premier League chairmen. He's one of the select few who is active on Twitter, and he seems to enjoy interacting with the West Ham supporters. It seems that the natural disposition of a Hammers fan is pessimistic. They've become used to disappointment in east London, having grown excited about the state of things many times, only to wind up back at square one. However, you get the sense that they are finally building something decent at the London Stadium. Yes, there are plenty of holes that still need filling. The situation at centre back, central midfield and, particularly, up front, doesn't exactly fill one with excitement for the coming season. However, there are plenty of talented players at the club and if the Hammers can succeed in adding a couple more quality additions in the right positions then they would appear to have all the ingredients necessary to prove Gold's optimism well-founded.