West Ham United co chairman David Gold delivered a cryptic three word response after a fan asked him about potentially signing Celta Vigo striker Maxi Gomez.
Sky Sports reported on Friday that the Hammers are in talks with the La Liga side for the Uruguay international, as are Valencia, with the player himself preferring a move to the London Stadium.
A supporter of the east London club tweeted Gold on Saturday saying that if the club sign Gomez then they will have bagged two of the most talented youngsters in world football, after their earlier purchase of Pablo Fornals this summer.
Gold's response on his personal Twitter account was an opaque one: "Good morning Carl. dg."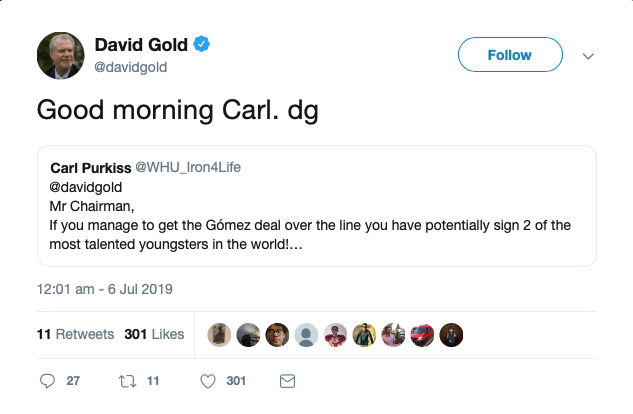 OPINION
Clearly Gold doesn't want to come out and say a deal for Gomez is done or that he is confident about it happening, but the fact that he responded at all to this supporter's tweet is an indication that West Ham may be in the driving seat for Gomez's signature, ahead of Valencia. You don't tend to see club chairmen responding to tweets from fans asking about players that their club are reportedly interested in – it's just not the done thing. So Gold will likely have gotten the Hammers faithful pretty excited with his reply to Carl, even if he didn't say anything of note. This is clutching at straws a bit, but it doesn't take Sherlock Holmes to tell you that Gold responding to this tweet is a good thing from a West Ham point of view. If Gold thought the Gomez deal wasn't going to happen then he wouldn't speak about him or respond to fans questioning him about the Celta frontman.